Southern-Style Honey Barbecue Venison Jerky Recipe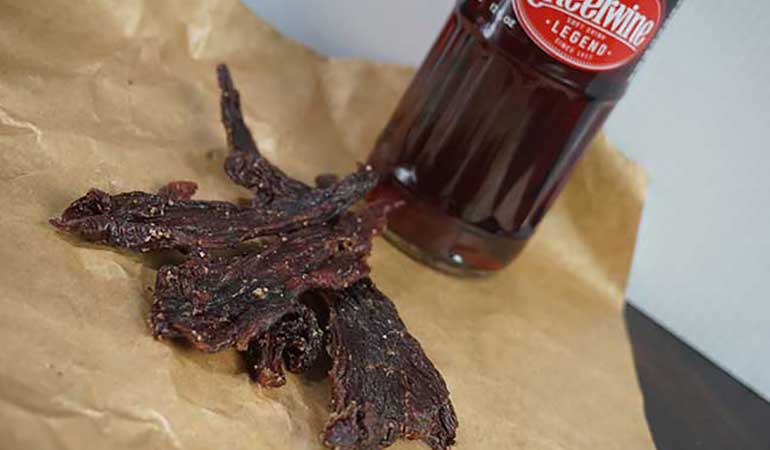 Here's a southern-style venison jerky recipe that's sure to be a favorite
One of the most popular homemade wild game processing projects is making your own deer jerky. It seems like everybody loves this spicy dried snack, whether you make it sweet, salty, spicy or a combination of all three.
However, like all the major, meaty foods out there, there are regional favorites. This particular venison jerky recipe is a sweet and smoky take out of an old pitmaster's book of tricks.
I know there are as many different types of barbecue in the south as there are gators in a Louisiana swamp, but this version takes a cue (pun intended) from those molasses and tomato sauces popular in Kansas City. If you like your sauce a little more Carolina than K.C., feel free to drop the ketchup and sugar levels down and splash in a little more vinegar. Memphis fans may want to forgo the sauce altogether and work up a dry rub cure. Like any good recipe, consider this one a guide on your path to homemade deer jerky heaven.
Yield: 1 ½ -2 ½ pounds venison jerky
Prep time: 30 minutes
Cook time: 5-6 hours
Ingredients:
3-5 pounds venison roast
⅓ cup honey
½ cup ketchup
2 tablespoons molasses
1 tablespoon brown sugar
1 tablespoon apple cider vinegar
1 tablespoon soy sauce
2 teaspoons Dijon mustard
1 teaspoon Cure No. 1
Directions:
In a small pot set over medium heat, whisk together all the ingredients until well incorporated. Remove from heat and let cool to room temperature.
Meanwhile, with a sharp knife, cut the venison roast lengthwise into ¼-inch-thick slices. To make this easier, place the meat in the freezer for 30 minutes prior to slicing.
Place the sliced venison in a heavy-duty zip-top bag and pour the jerky brine over. Remove as much air from the bag as possible and seal. Massage the bag well to make sure the brine is covering all the pieces. Lay the bag flat in the refrigerator and marinate for a minimum of 12 hours, turning the bag once or twice.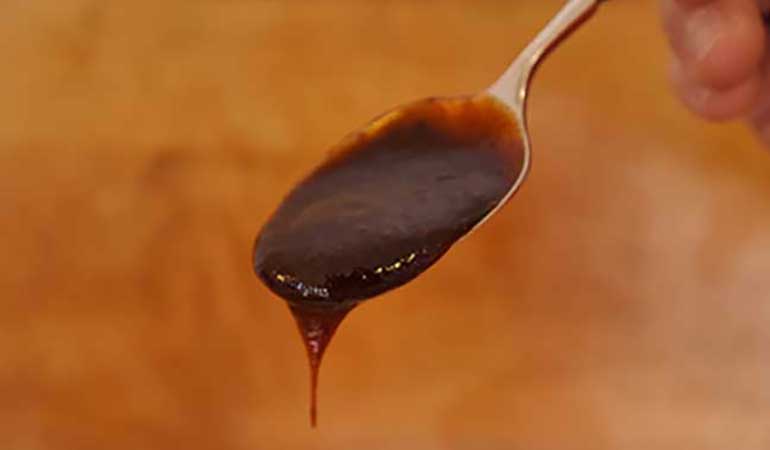 Drain the marinade from the meat and transfer the slices to a smoker. Set smoker to 175 degrees and cook for 30 minutes without smoke. Then add hickory chips and smoke until the jerky reaches the desired consistency.
To Dehydrate: Set dehydrator to 165 degrees and dry for 5-6 hours or until the desired consistency is reached.
Tips for Great Venison Jerky
There are two ways to slice your whole muscle meat jerky, depending on how you like it. Look closely and you can see the grain of the meat, or how the muscle runs along the length of the cutlet. You can either cut with the direction of the grain for a chewier jerky, or if you cut across the grain, like this, your deer jerky will be more tender because you've cut those muscle fibers into shorter pieces. Again, it all comes to personal preference. If you're not sure what you like, try both ways to find out which you like best.
You can certainly make great strip jerky using just a sharp knife, but the job is made easier, and the final product better and more consistent if you have a mechanical slicer, such as Cabela's Commercial Grade Meat Slicer. Making strip jerky starts with a large cut of venison, such as a roast from the hindquarters. The sirloin or bottom round both work great.
It helps if the venison roast is very cold, almost to the point of freezing, so plan ahead and put the roast in the freezer for about 30 minutes to firm up. This makes it much easier to slice.
Once your meat is sliced, whisk the seasoning and cure together. If you need a bit more liquid, add a little bit of cold water at a time, but be careful not to dilute the sauce too much. Pour the marinade over all the meat, then get in there with your clean hands, or a wooden spoon and make sure everything is mixed thoroughly. Every piece of meat should be well coated with the seasoning. You can see the cure will start working right away as the meat starts to go from red to brown.
For a better final product and to ensure a more uniform cure, I like to put everything into a large plastic food-storage bag, press out all the air and seal it tightly. Then this can go into the refrigerator for up to 24 hours. You can get away with less time, but you just want to make sure the flavor and cure penetrates every inch of the meat, until all of it has turned brown. It helps to turn the bag and kind of massage it around every few hours to ensure a good cure.
While a dehydrator is typically the best method for drying your jerky, a true Southern Style Deer Jerky calls for some time under smoke. If you don't have access to a smoker, you can always add flavor from Liquid Smoke, but it's better to go with the real thing, even if that means a trip to the hardware store for a brand, new Camp Chef smoker. (You needed an excuse to buy one anyway, right?)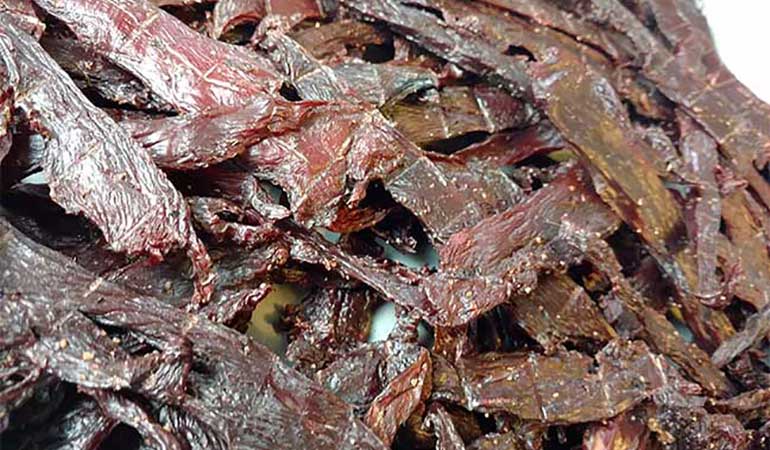 Whichever method you use, you want carefully control and monitor the temperature, keeping it around 165 degrees to ensure the jerky dries, rather than cooks. Drying times will vary depending on the meat, as well as other factors, so it's a good idea to check on your jerky from time to time through the drying process.
The important thing is to make sure the finished product is still pliable, yet completely dry. When the drying time is complete and the jerky is at the consistency you prefer, transfer the racks to a counter to cool, or place the jerky on a paper-towel lined tray and let it come to room temperature.