What's Not to Like About Shellcrackers on the Fly?
Redear sunfish will take a fly and fight hard, and they're biting now.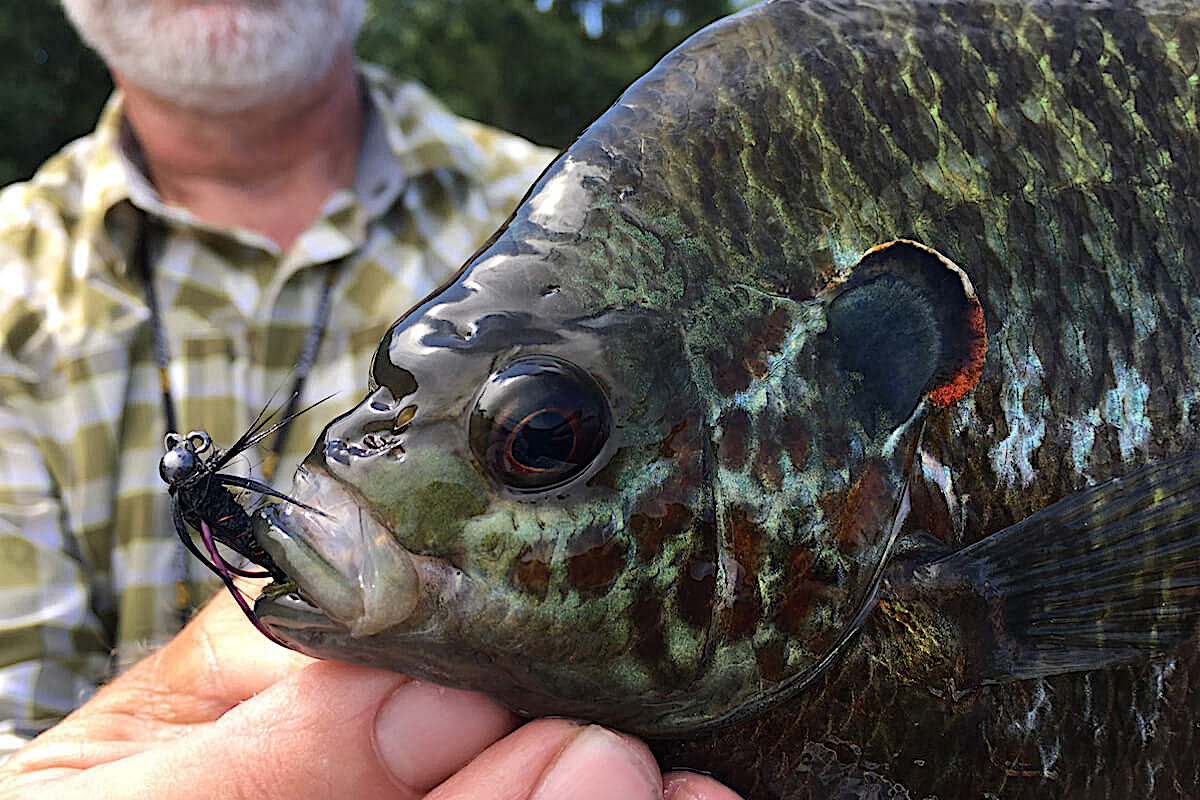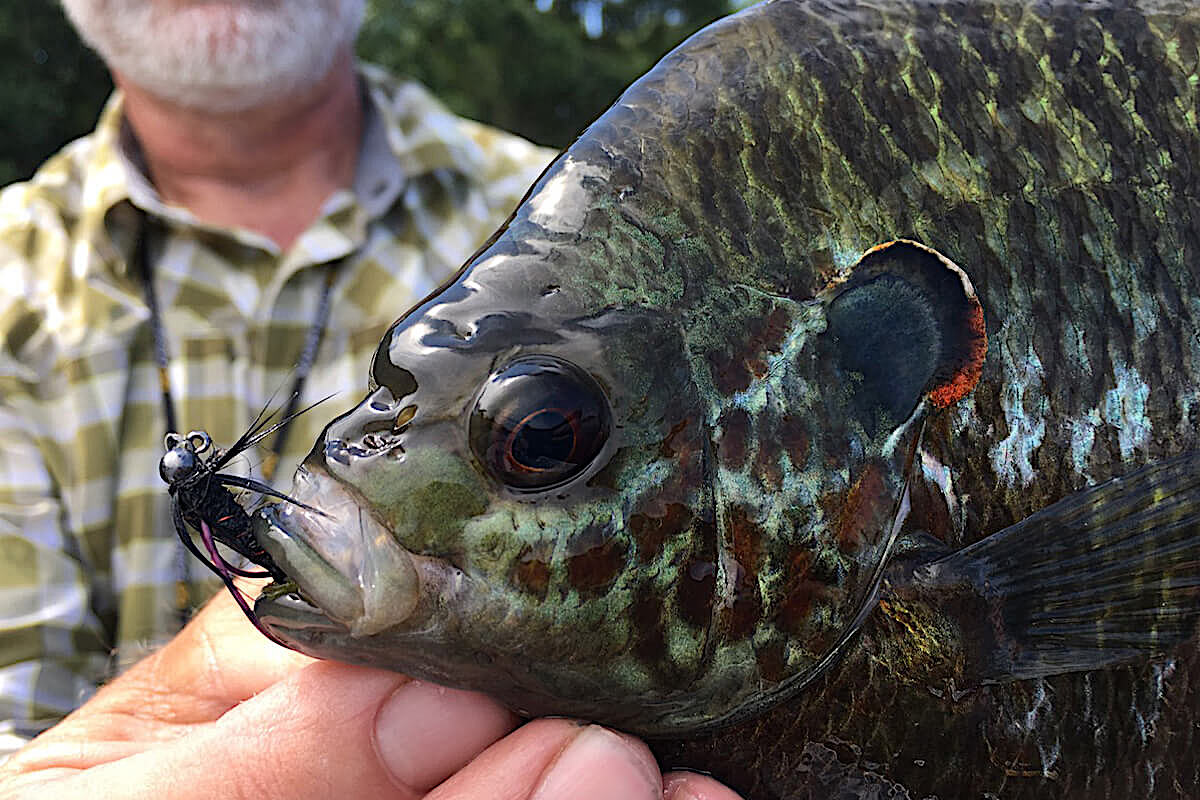 With the height of panfish season upon us, fly anglers across the country currently have their best chance to catch a few whopper redear sunfish. They're abundant, they're shallow right now, they're willing to take flies, and they make for an excellent meal at the dinner table.
In short, what's not to like about playing the shell(cracker) game, even with a fly rod?
Known to many as shellcrackers—the redear sunfish species (Lepomis microlophus) is technically named for the prominent red edge on the opercle (or ear flap) of the male (the ear flap is orange on the female)—the popular panfish uses their pharyngeal teeth in the throat area to feed on and crush small snails, mussels, clams, and such.
In some cases, shellcrackers aren't so little at all like other sunfish cousins, growing to be the size of a respectable bass weighing upwards of two pounds or more in the sunfish's native range found across the South from Texas to Florida, up the Atlantic Seaboard and back toward Illinois.
Where the species has been introduced further west—places like California and Arizona—they can really grow to be very large given the quagga mussels that exist in spots like Lake Havasu. In fact, a recent run of redear sunfish world records has come thanks to that unique situation.
Having caught plenty of redears over the years, I've got my own shellcracker memory, although it falls well short of the Arizona records referenced above. Still, it was in record book territory.
The catch came a couple of spring seasons ago when I traveled to fish with Rob Woodruff, one of my best friends and longtime angling friends, at 1,799-acre Lake Athens in East Texas.
Photo Gallery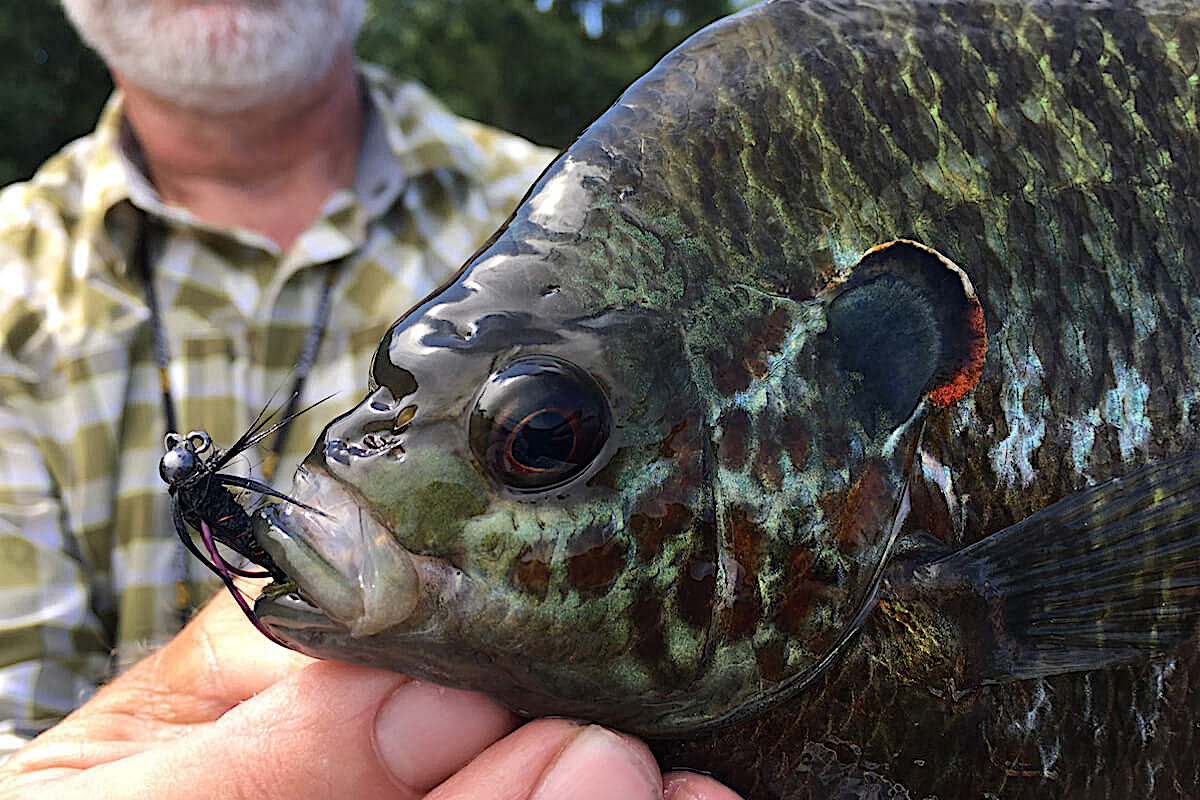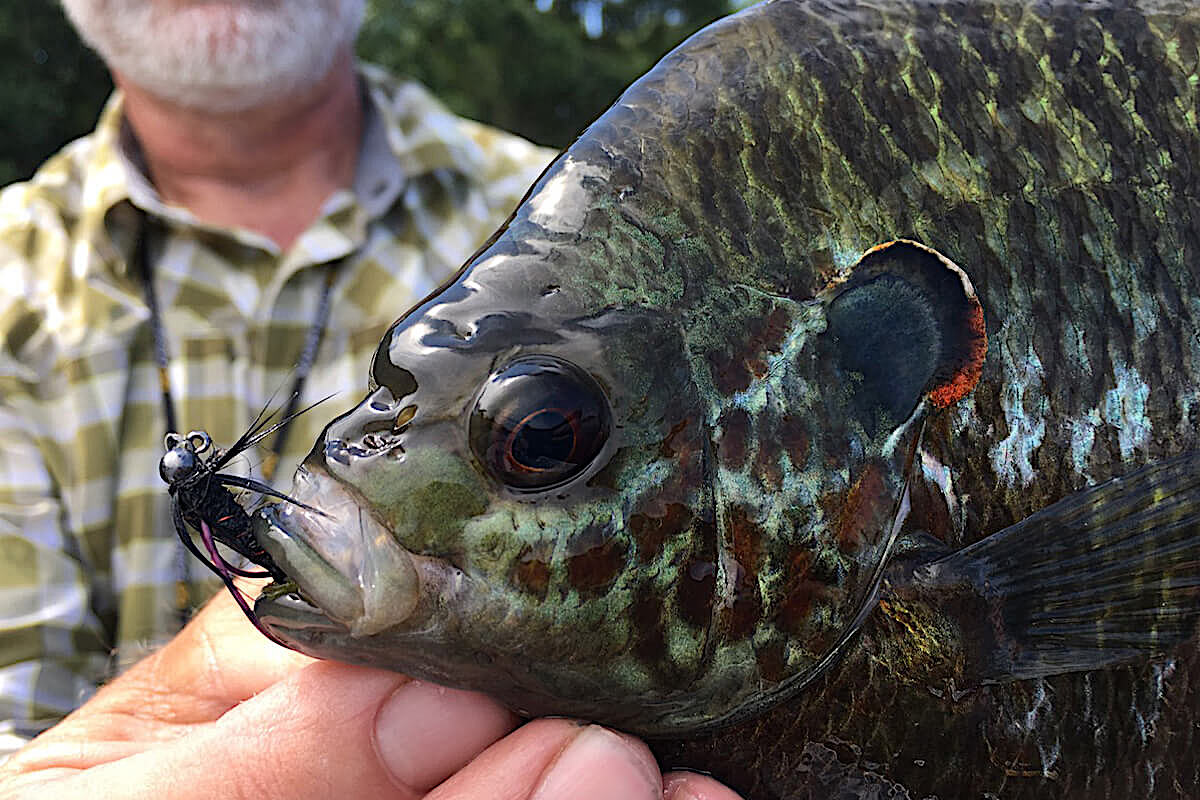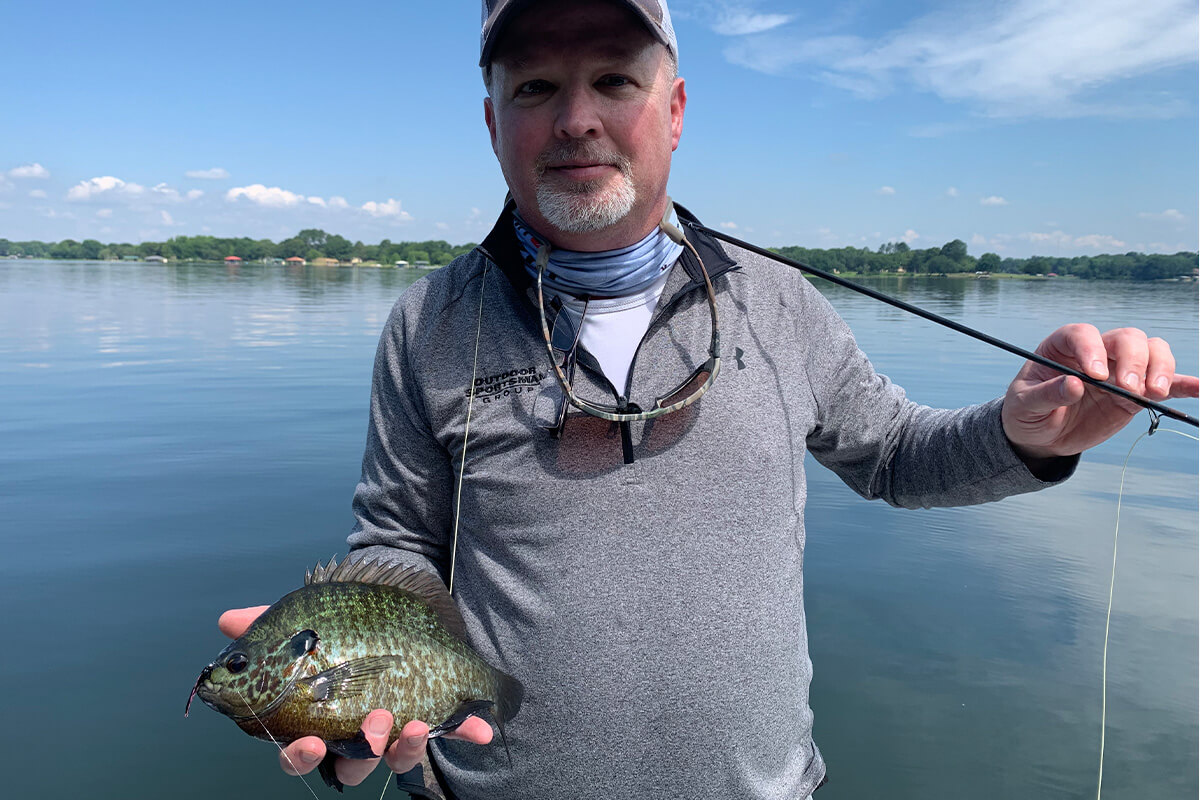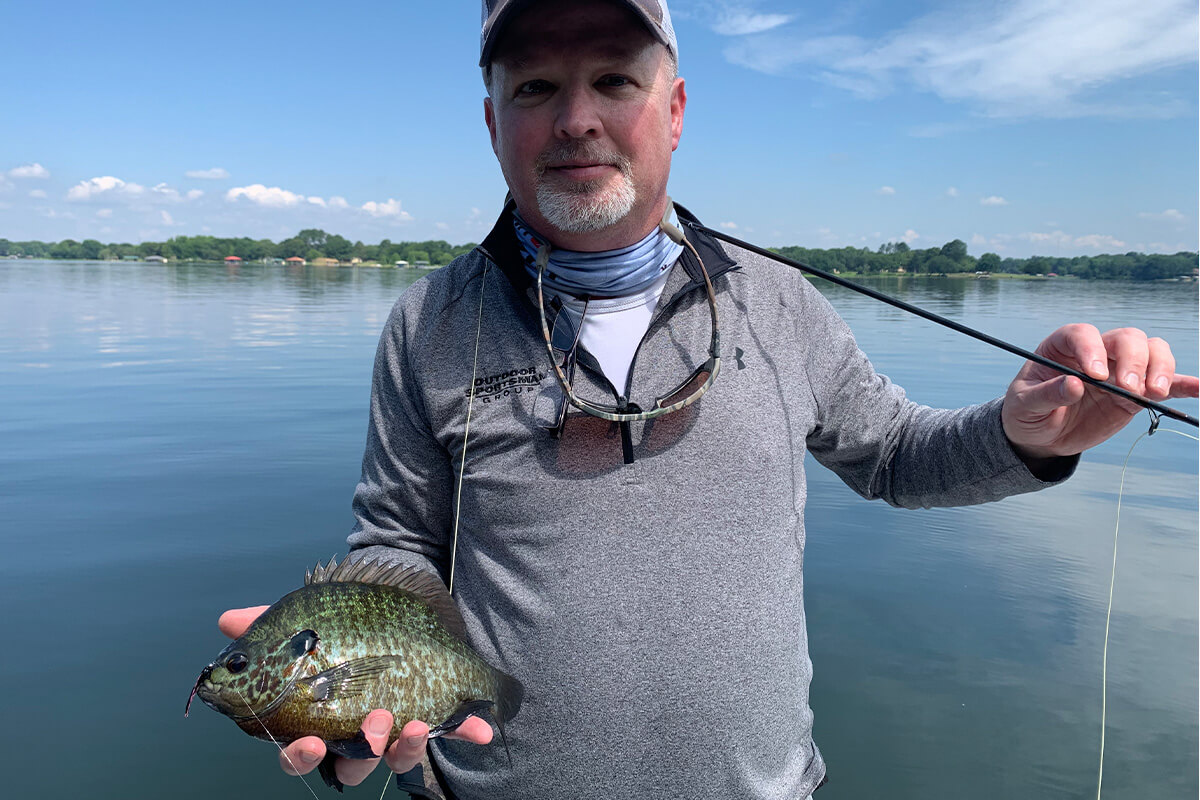 With the early days of the Covid-19 pandemic precautions and headlines swirling about, I went to Athens with visions of big bass. After all, Major League Fishing star Ott DeFoe had recently used a big 9-pound, 6-ounce bass to win the 2020 MLF Stage 3 event at Athens (also contested at nearby Lake Fork). And with a lake bass record of more than 14 pounds, and a fly rod record of nearly 9, that was the initial goal when I climbed aboard Woodruff's Xpress aluminum skiff, poling platform and all.
But it didn't take long for those plans to change when the bucketmouth bass refused to cooperate, despite a mild, overcast early summer morning. When the bass aren't feeding in the post-spawn, fishing can be a chore.
---
---
After a couple of hours of flogging the water with Orvis eight-weight fly rods, Woodruff suggested a change of plans, quickly getting his skiff up on plane and heading for another part of the lake to chase spawning bluegills. That Plan B sounded good to me since I cut my angling teeth on panfish and I quickly exchanged the heavier fly rod for a three-weight fiberglass version.
Soon, I was casting small poppers toward the dozens of depressions in the shallow, vegetation, stump-laced region into which we had settled. But once again, nothing doing.
For me, that is, a surface junky determined to catch a big bluegill on top. But when Woodruff kept hooking up thanks to the chartreuse beadhead nymph he was throwing, I quickly adjusted course and started throwing a dark, mottled, nymph pattern complete with a beadhead to get it down and rubber legs to attract some attention.
Quickly, I boated a fat bluegill or two. Then, a terrific take followed, followed by a deep bend in the Orvis Superfine fly rod I was throwing.
I can't remember how long the fight lasted, but it took a minute or two. When my angling brother finally scooped it up, we were both impressed.
So much so that he pulled out his Boga Grip spring-loaded scale; when you catch a panfish big enough to weigh, you know you've accomplished something.
Amazingly—and I've got the pictures to prove it—the spunky shellcracker had been eating well, registering a hair above the 1-pound mark. We took a few photos, measured it at 11.5 inches in length, and let it go to swim angrily back towards the nest, doing its part to keep the local shellcracker population going for another year.
Woodruff, who has been known to needle me a bit over the years, smiled, reached over, and gave me a fist bump.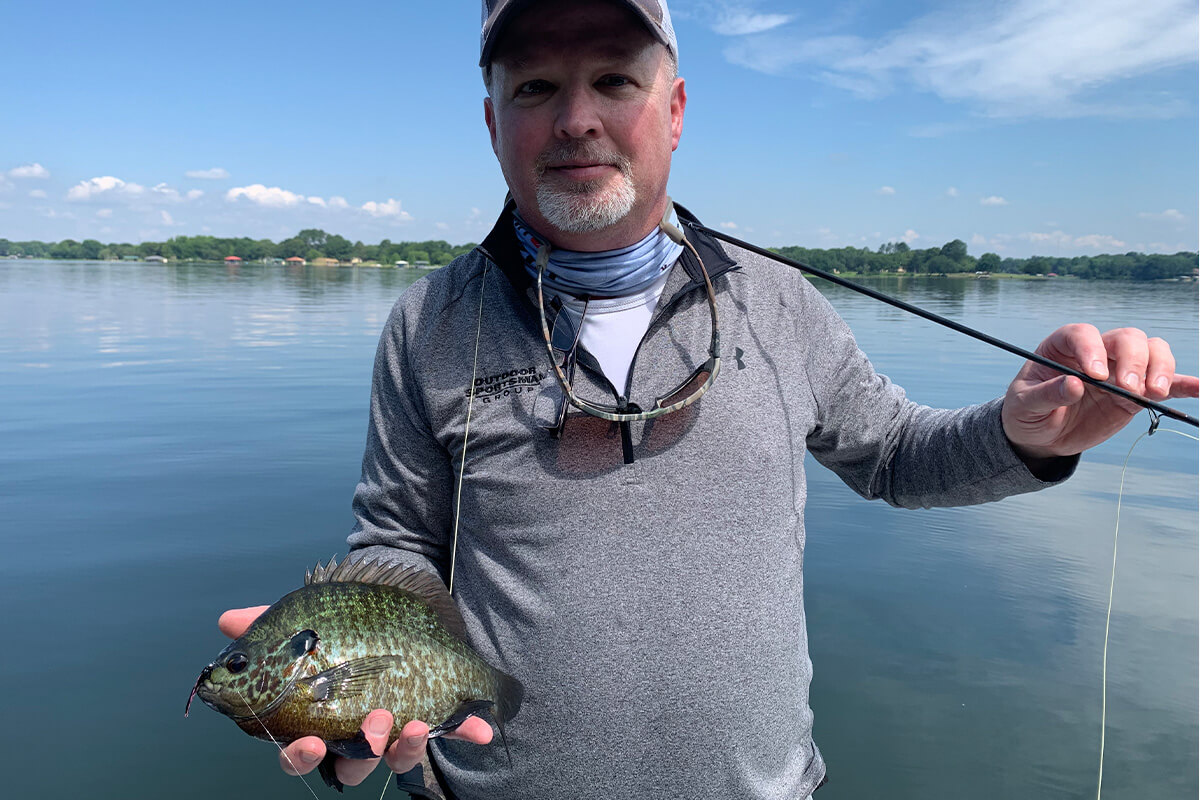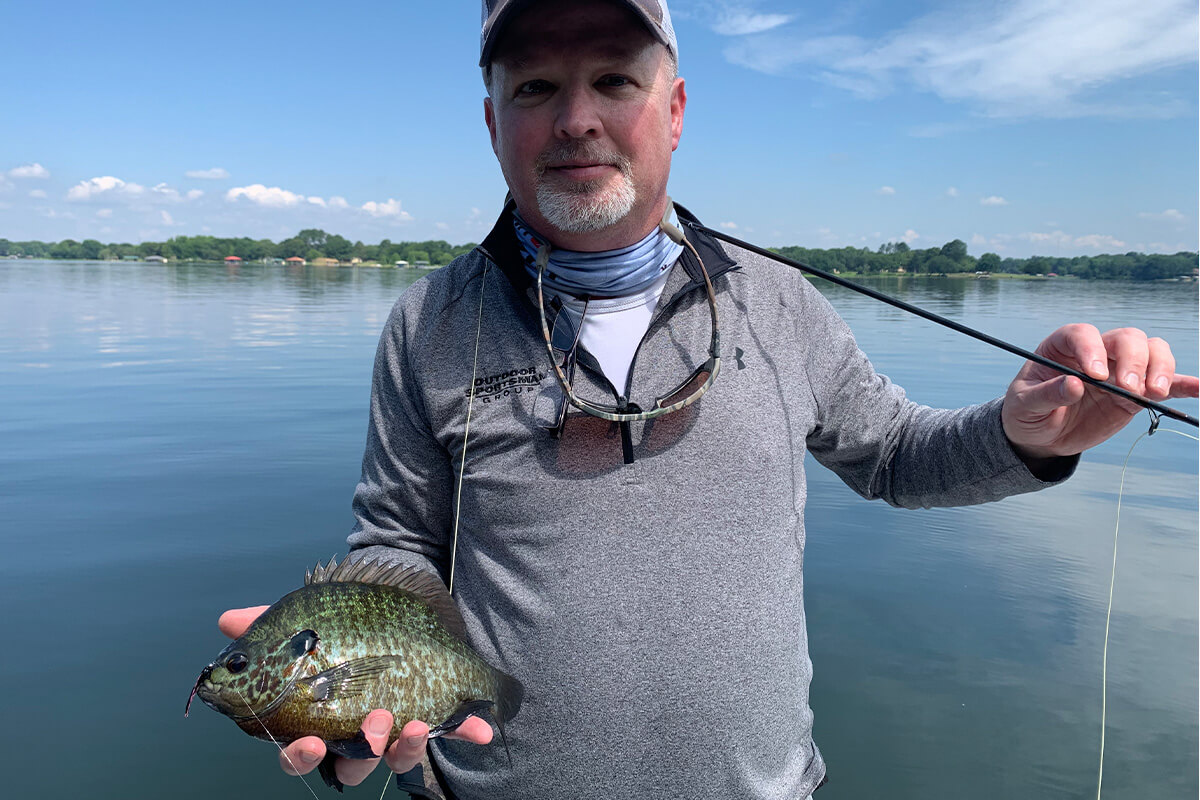 "Pretty good shellcracker, Burkhead," he said. "They get bigger, but they're hard to catch like that, so it might be a while before you tangle with another one that size."
As it turns out, it would have been a lake fly-rod record had I been wise enough to check the Texas Parks and Wildlife Department website before heading out.
But I didn't really mind as we kept fishing deeper, and kept catching a mixture of sizable bluegills and shellcrackers.
Shellcracker Tactics
Interested in duplicating such a panfish angling feat? Then keep in mind that while redears are shallow in many parts of the country right now for the spawn, we're still talking about a fish that usually brings a need for deeper presentations.
But when you're willing to trade poppers for buggy subsurface offerings, you can have a morning or afternoon of serious fun as spring turns into summer.
"Spawning time is the easiest to target shellcrackers as they are in groups right now," said Woodruff, a longtime fly-fishing guide in East Texas now living in northern Arkansas with his fly-guide wife Jenny. "Otherwise, chasing shellcrackers with a fly rod means fishing deeper around timber, along the outer edge of weed beds, and targeting rip rap along dams and causeways."
While spawning of shellcrackers typically takes place on the full and new moon cycles of April and May, in some areas of the country, early June is also prime. And according to Woodruff, when the spring has been rainy and cool—see Arkansas and some other places across the South this year—bedding activity can occur even deeper into the summer months.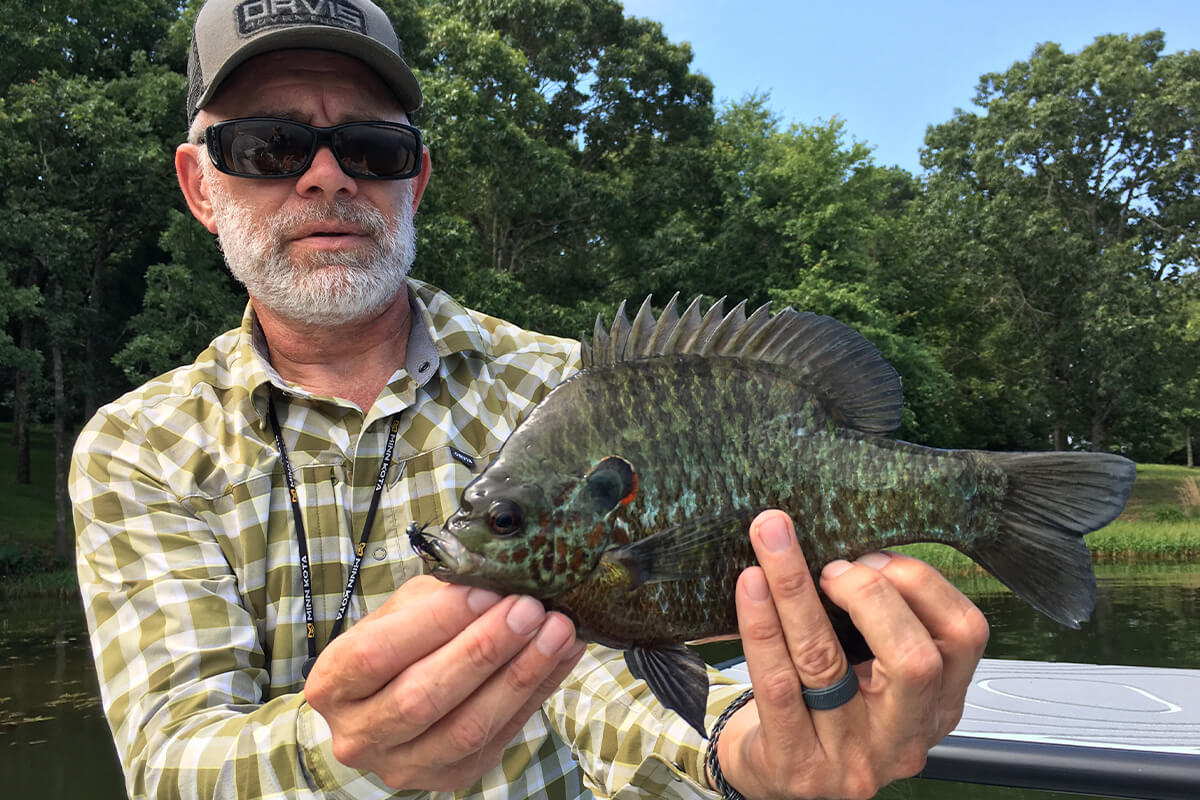 The species is abundant in many spots, even in my home state of Texas where the bluegill, or bream, is panfish king. In the Pineywoods region of East Texas, lakes like Athens, Winnsboro, Gilmer, Caddo, Crockett, Coffee Mill, and even big-bass legend Lake Fork all produce some great redear action in the spring. In other parts of the country, Okeechobee and the St. Johns River complex in Florida, Santee-Cooper in South Carolina; Clarks Hill in Georgia; Dale Hollow, Kentucky, and Reelfoot in Tennessee; Eufaula and Guntersville in Alabama; and, of course, Havasu in Arizona, all come to mind.
Rig Up Right
Regardless of what water body you fish, Woodruff says you'll want a lightweight fly rig combining a 3- or 4-weight fly rod (fiberglass rods are a great choice for panfish), a floating fly line, a 7 ½ foot, 3X fluorocarbon leader, and a tippet section of 4X fluorocarbon between 12 and 18 inches.
To that setup, the veteran guide says that a variety of patterns will usually work for shellcrackers—and the bluegills that are often nearby—including Terry and Roxanne Wilson's Bluegill Bully, Jim Green's Secret Weapon, Woodruff's version of the Beadhead Mohair Leech, and beadhead nymph patterns in natural hues like olive, black, and peacock, although brighter colors like chartreuse will also work.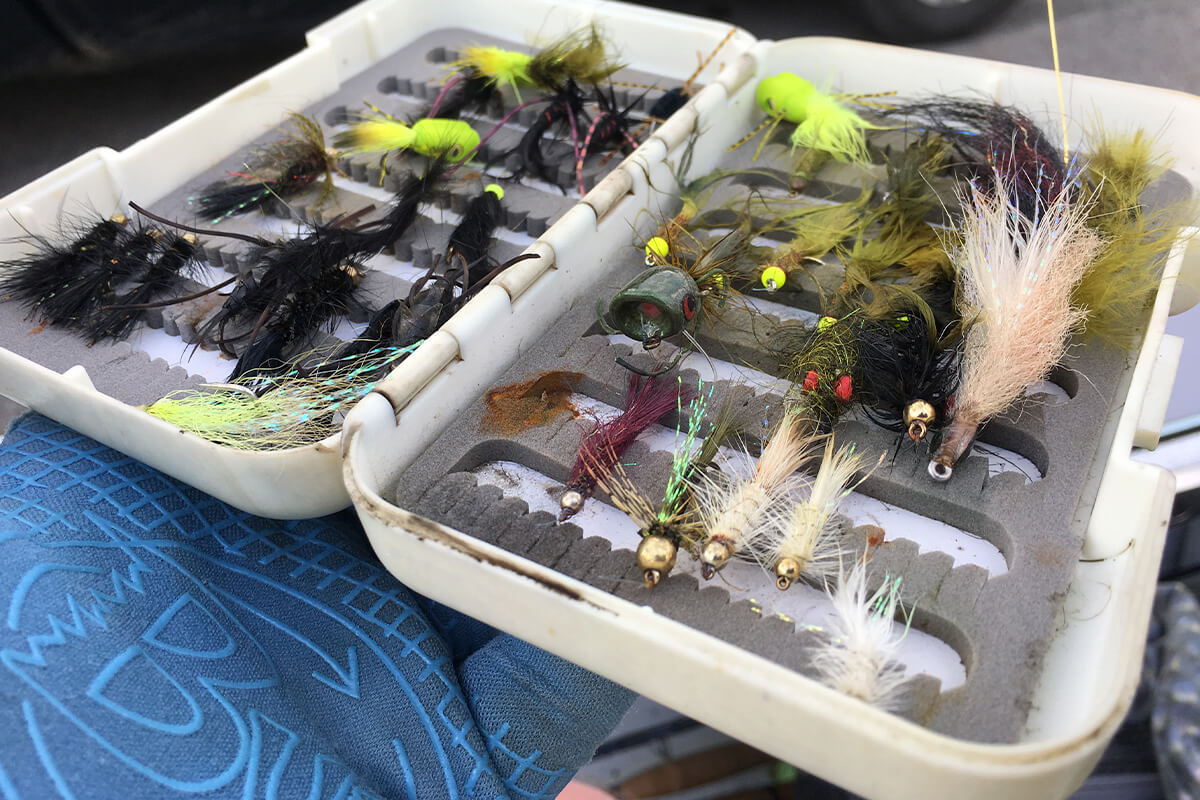 Also add the Cap Spider to your fly box, a panfish-slaying fly created by the late fly tyer Michael Verduin. While I'm not the expert on bluegills and shellcrackers that Verduin, Woodruff, and the Wilson's have been down through the years, if I had one fly to fish for spring and summer panfish for the rest of my life, this would be it.
Put simply, with its tantalizing slow sink and waving rubber legs, it just looks buggy and most bluegills and redears can't resist it. Fish it by itself, or make it the bottom fly in a popper-dropper style rig.
The key, when it comes to shellcrackers, is to get a fly down to where they live. While bluegills will often be shallow through much of the year, even after the spawn, bigger bull bluegills and shellcrackers in general, will usually prefer the deeper stuff.
"The best redear lakes I have fished typically have areas with a sandy bottom, and redear definitely seek those out as spawning areas," said Woodruff. "And over my years of guiding, the best redear spots are adjacent to breaks (falling) into deep water."
When you do get on a bunch of shellcrackers, prepare to be transported back to your childhood as they put big arcing bends in lightweight fly tackle, potential lake records or not.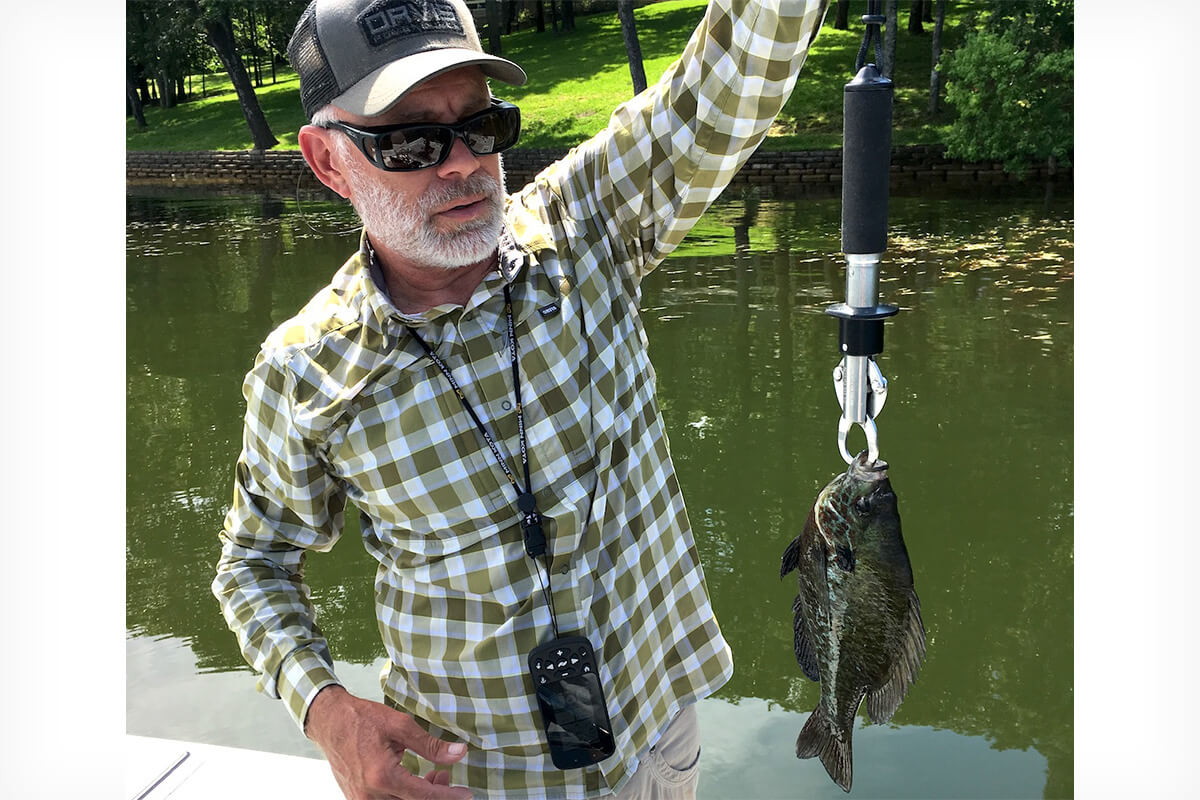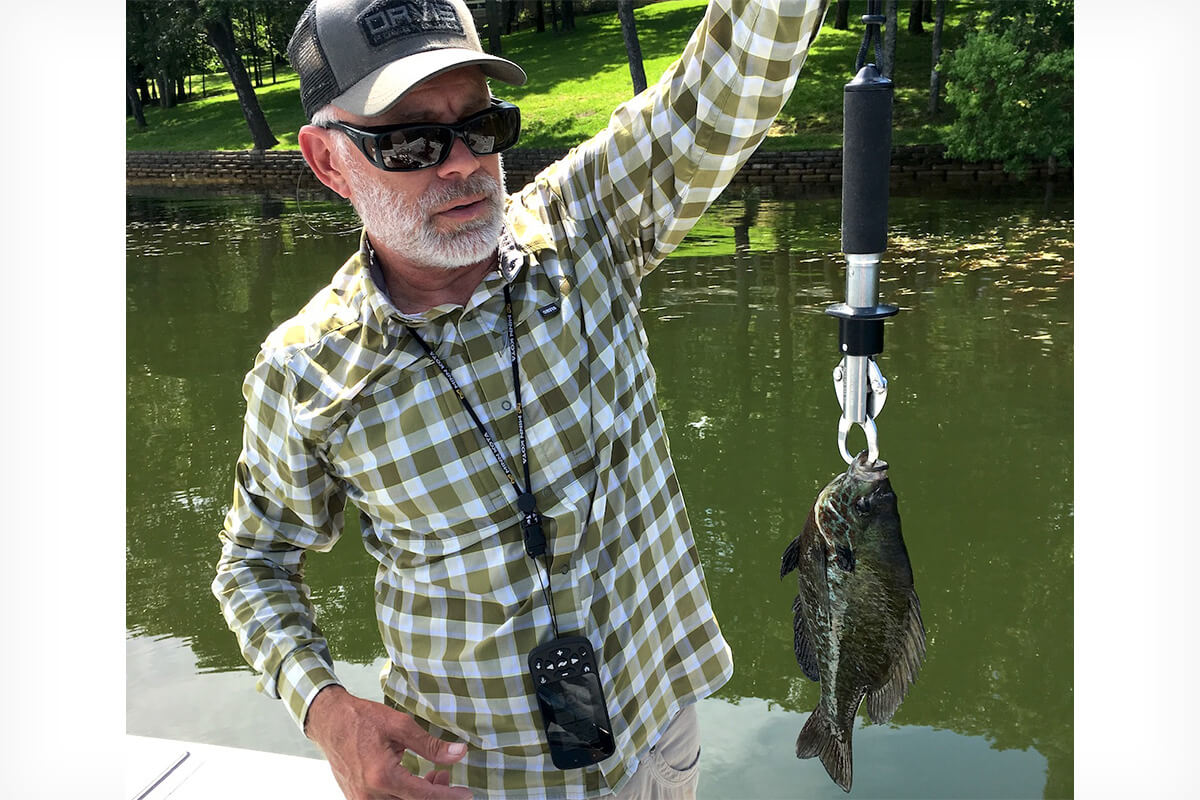 "I don't typically weigh or measure many of the panfish we catch, but I've seen some like yours that were close to or over 10 inches and were pushing up towards two pounds," he said. "I've had some guide trips to Lake Winnsboro in East Texas where clients each landed and released over 50 large shellcrackers. And there have been several trips at Lake Gilmer, where in addition to large shellcrackers, we caught seven other species of sunfish in a single day."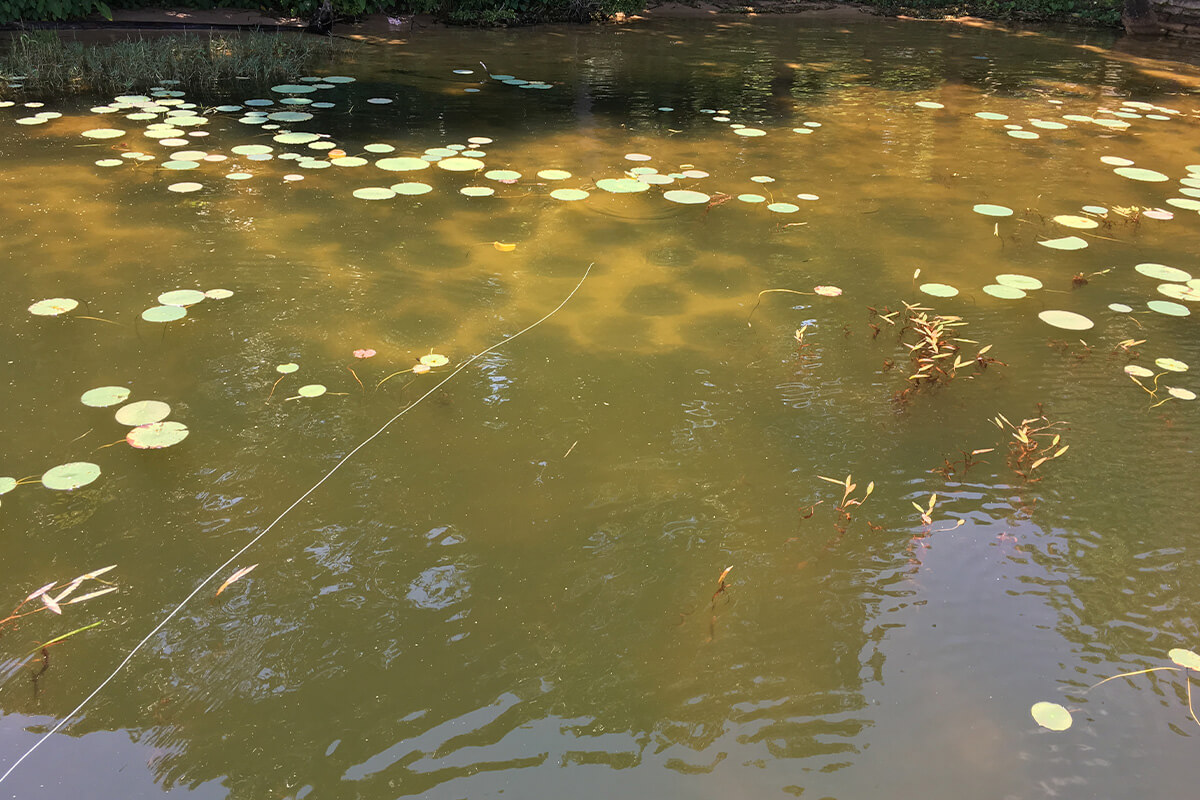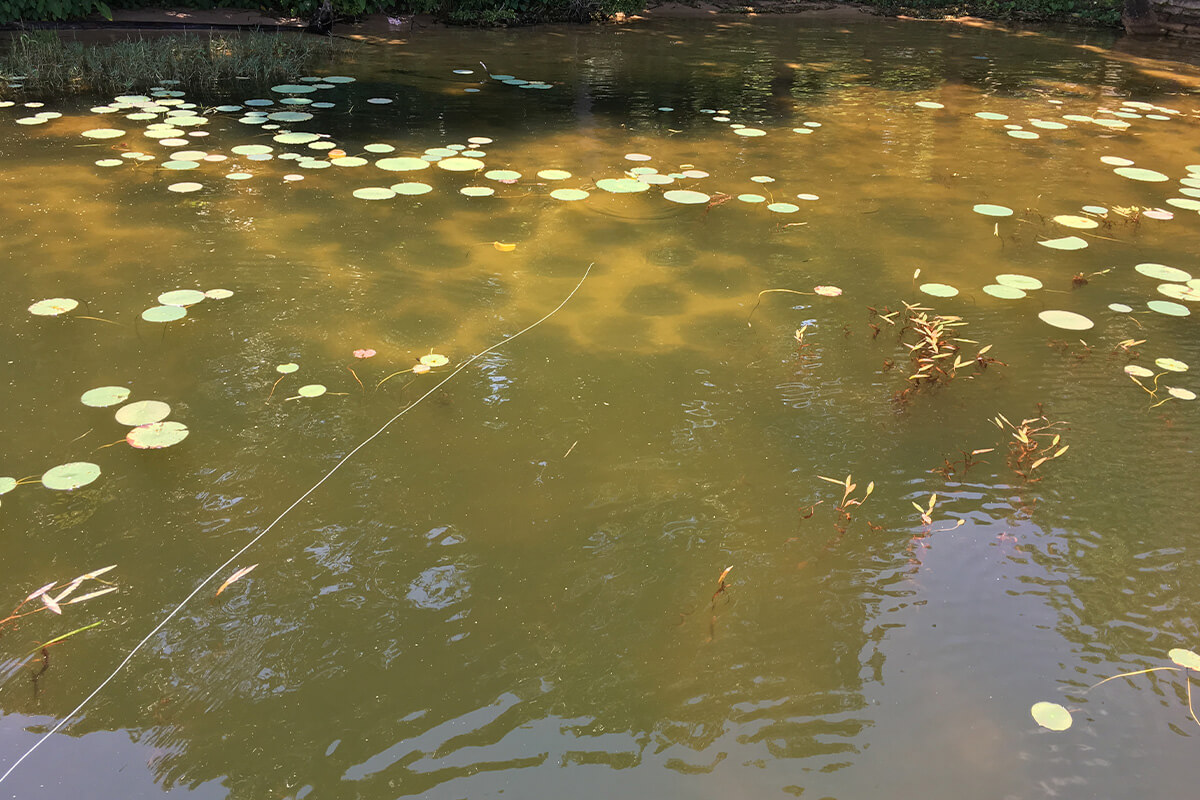 Known as excellent table fare, Woodruff does offer one word of caution.
"Although they can be abundant, they are not an inexhaustible resource," he said. "The great shellcracker fishing on Lake Winnsboro took a hit when it became well known and too many anglers were hauling out coolers full of big shellcrackers taken off the spawning beds all spring."
In other words, go to enjoy catching one of the country's most popular sunfish species. And while some places like Texas place no restrictions on what you can keep, respect the resource and take only what you can use, letting the rest go to do their thing and keep everything going for another year.
If you do that, you can play the shellcracker game on a fly rod for a long time to come.