Venison & Mushroom Galette Recipe
Rustic and delicious, this savory galette with thinly sliced venison and mushrooms can be a perfect meal or a great appetizer.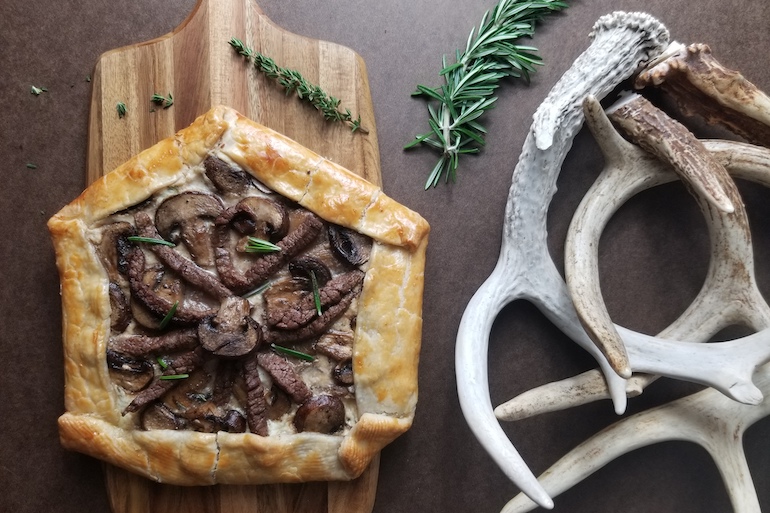 Print RecipeEveryone who travels to the Badlands of western North Dakota is looking for some sort of adventure. Some for work, but most for tourism and outdoor recreation. And then there are a few of us who make the long journey for food.
For the last five years, I have followed my dream of hunting where Theodore Roosevelt did. He went to the Little Missouri River Valley to kill a buffalo. I head there to hunt whitetails and mule deer among the same cottonwood trees, and to bring the meat home to feed my wife and daughter.
I had sat alone for two hours since the sun rose on that first Saturday in November, waiting patiently for the thick fog to lift so I could see enough to hunt safely. By that point, the arduous 1-mile hike down to the river seemed like a respite.
The whitetail doe jumped up from its hiding place among the buffaloberry and splashed across the Little Missouri River, stopping broadside in the middle of the flowing water to look back in my direction to see what had made the noise that disturbed her mid-morning nap.
My 5-year-old daughter and I had fun making this quick and easy dish together to turn a bottom round steak from that doe into something golden brown and bubbly and ready to impress my wife when she got home.
Cooking for my wife is my love language, but any kind of baking usually turns into a disaster. This galette is an easy compromise.
Rustic and delicious, this savory Venison & Mushroom Galette can be a perfect meal, or a great appetizer for entertaining and holidays. If you're like me, it will give you the opportunity to share one of your favorite hunting stories, while sharing a great recipe with family and friends.
Serves: 2-4
Prep time: 20 minutes
Cook time: 20 minutes
Ingredients:
1/4-pound venison steak, cooked and thinly sliced
8 ounces white or bella mushrooms, sliced
2 tablespoons minced garlic
1 tablespoon each butter and olive oil
1 refrigerated pie crust
1/2 cup ricotta cheese
4 tablespoons freshly grated parmesan cheese
Fresh rosemary and thyme
1/4 teaspoon each salt and pepper
1 egg, beaten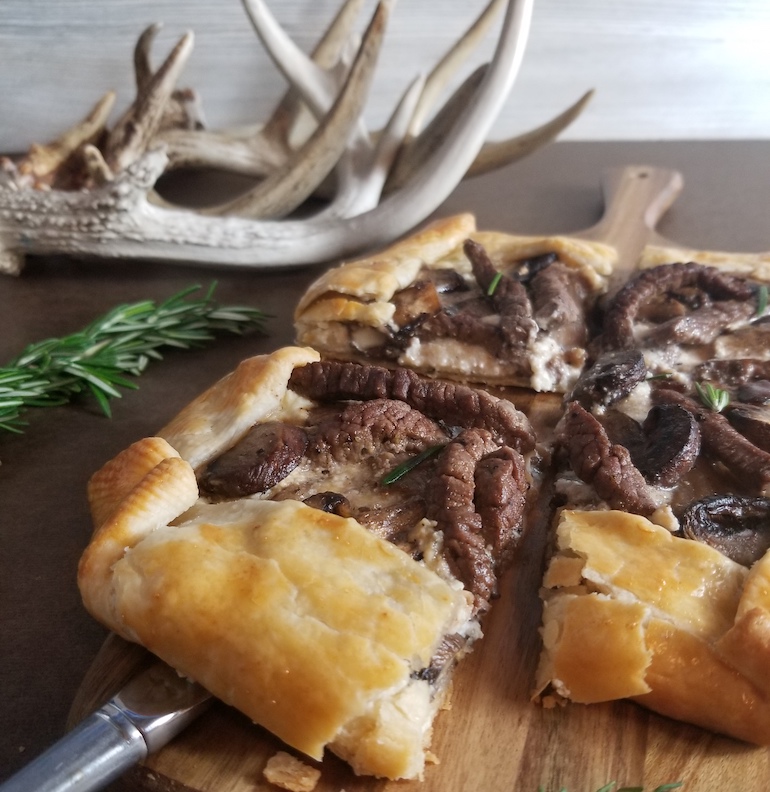 ---
Directions:
Preheat oven to 400 degrees.
In a pan, add butter and olive oil with sliced mushrooms and minced garlic. Cook for a few minutes until mushrooms are tender. Turn off heat and set the pan aside.
Roll out pie crust on pizza pan.
In a bowl mix ricotta, 2 tablespoons parmesan cheese, salt and pepper, and 1 tablespoon each fresh thyme and rosemary.
Spread ricotta mixture over pie crust, leaving 2 inches around the edge. Brush with egg wash.
Next, spread cooked steak and mushrooms over the ricotta mixture.
Fold pie crust sides over and brush with more egg wash.
Bake for 20 minutes until golden brown.
Sprinkle with fresh rosemary, thyme and remaining parmesan cheese.
Serve warm.