Venison Bratwurst Recipe from Scratch
A Saturday kill turned into a tasty game-day meal, this Venison Bratwurst Recipe is perfect for any tailgate or home grill.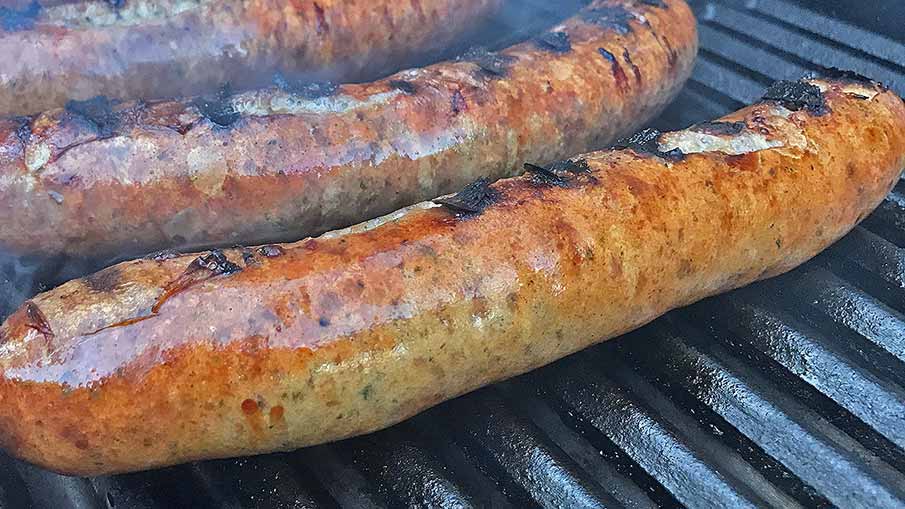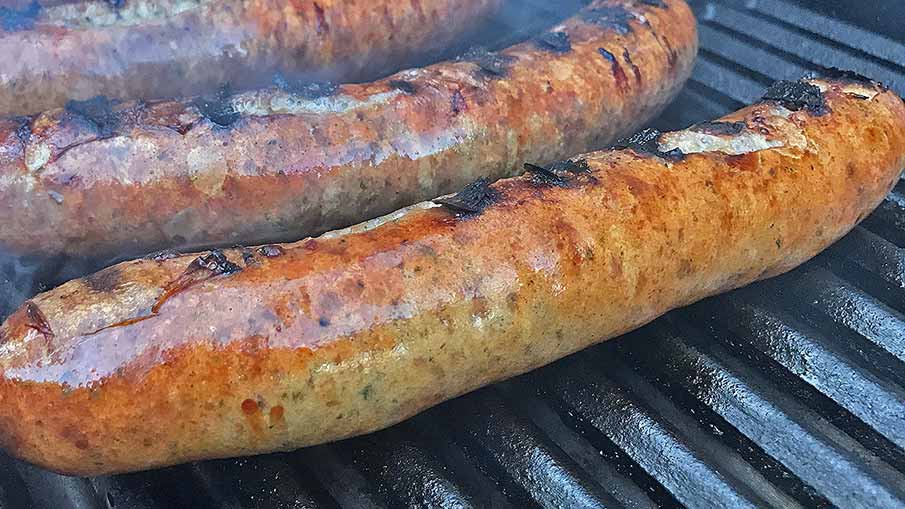 Print RecipeMy mouth is watering thinking about these venison brats from scratch. They are amazing with homemade sauerkraut. I like to slice up leftover venison brats and cook them with fried potatoes. Add the brats towards the end of cooking to heat them up. These brats are also good in buttered noodles or on top of mashed potatoes.
Serves: 6-8
Prep time: 30 minutes
Cook time: 30 minutes (if boiling or grilling your brats)
Ingredients:
Casings
2 pounds ground venison
2 pounds ground pork butt (fatty meat for flavor)
1 large onion, minced
½ teaspoon brown sugar
1 tablespoon kosher salt
½ teaspoon ground sage
½ teaspoon marjoram
¼ teaspoon cayenne pepper (optional)
1 teaspoon freshly grated black pepper
2/3 cup dark beer
Directions:
Soak the casings in warm water for 2 hours.
After soaking, rinse the casings thoroughly by placing the end of a casing opening over the water faucet and rinse it.
Mix the remaining ingredients together and put the mixture in a food grinder. Turn the grinder on and hold the casing. The casing will fill with air – then squeeze the air out of the casing and tie a knot on the end.
Push the meat mixture through as the casings fill – hold the casing as it coils. Pinch the end of the casing and twist it a few times and tie that end off.
Now you can boil them in beer or water, or grill them for 20 to 30 minutes.
Variations of this Venison Bratwurst Recipe
Once you've mastered how to make venison bratwurst at home, try one of the variations below. You can also mix up your own unique combination of ingredients to add to the brat mixture to truly make them your own.
Use wine or milk instead of the dark beer.
Add one cup sharp cheddar cheese, chopped jalapeño peppers, and horseradish in one batch.
Make a large 20- or 30-pound base recipe and divide it up to whip up many different varieties at once. (Your friends and family will be begging you to do this. Seriously!)
For more venison recipes, visit: MissHomemade.com