Outdoor Report Published February 14, 2020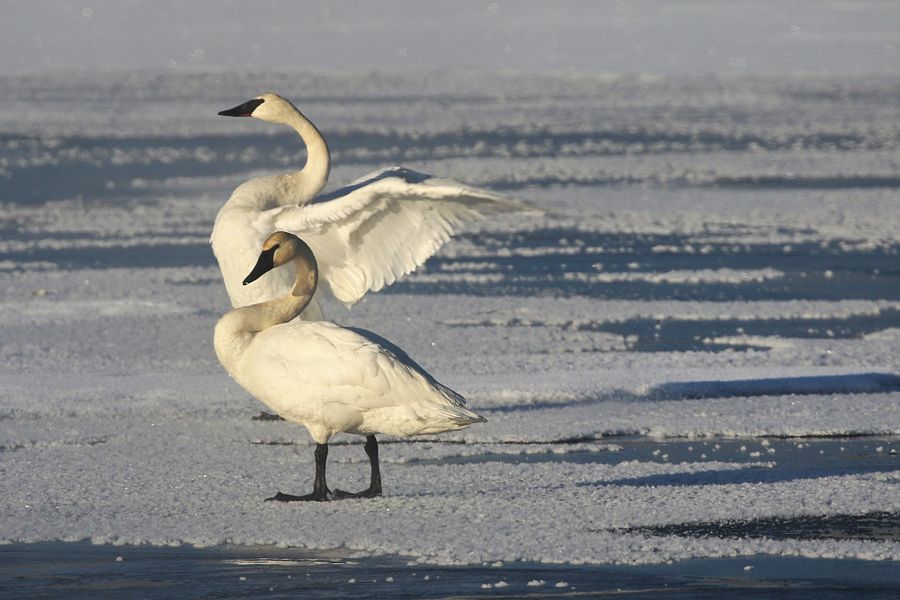 Trumpeter swans near the Art Oehmcke State Fish Hatchery in Woodruff.
Photo credit: DNR
Outdoor Report is your weekly snapshot for all things outdoors from across the state. Here is a brief look at what Wisconsin has in store for you this week.
More snowfall over the last week means improved winter recreation conditions across the state including snowmobile conditions. Wisconsin is the birthplace of snowmobiling and continues to offer some of the best snowmobiling opportunities you are likely to find, especially in the northern part of the state. Be sure to check out Travel Wisconsin's snow report for the best spots to take out your sled. Always remember – safety first. Speaking of snow, many state parks and forests across the state are rating cross-country ski trail conditions as excellent or good.
Continued below-average ice conditions along with many cracks in the ice have sturgeon spearfishers using ATVs and snowmobiles to access Lake Winnebago. Shack count opening weekend was down 50% this season compared to 2019. Although registrations are down from previous years, there have been more than half a dozen sturgeon over 100 pounds registered so far. Still, reports coming in reveal most lakes have overall good ice conditions with panfish catches, plus pike and walleye on tip-ups making it to the top of the list.
For more on Wisconsin's outdoors, check out the full Outdoor Report below.
---
FISHING
Brown County
Most ice has gone from the Fox River with only some shore ice remaining. A few boats have been seen using the launch across the river from Voyageur Park. Fox Point launch still had ice as of the weekend.
Very little activity during the week at Long Tail Point with moderate fishing pressure over the weekend. Fishing for perch and northern pike was reported as slow with only a few small perch caught.
There was sporadic fishing for perch this week at Hook Road with reports of good fishing one day and nothing the next. Overall angles are seeing more slow days than good days. Successful anglers were using small jigs with waxworms or small spoons with waxworms or minnows.
Calumet County
Continued below-average ice conditions along with many cracks in the ice have forced sturgeon spearfishers to use ATVs and snowmobiles to access Lake Winnebago along the east shore. Shack count opening weekend was down 50% compared to 2019. Heavy snows have caused deterioration of travel areas further complicating access. Spearfishers should carry floatation devices, and ice picks on the ice.
Dane County
Area lakes generally have good ice conditions with many anglers finding ice thick enough to use snow machines and four-wheelers, but be sure to check ice conditions before heading out. No ice is safe. Pan fishing has been steady along weed edges and in bays. Anglers are finding success targeting toothy predators like pike in those same panfish weedy areas but be sure to test out the deeper water adjacent to weedy bays too. The walleye bite has been better in the early morning, but dusk offers an excellent opportunity also. Be sure to take advantage of the mild weather during the early catch and release trout season on area trout streams.
Door County
With the recent melting and freezing cycle the slush and water on top of the ice mostly froze over the week creating slick travel conditions on the east shore of Green Bay. With the recent cold weather some anglers are reporting a layering phenomenon, the top 6 inches is good solid ice, then about 6-10 inches of water/slush and then another 6-10 inches of good ice on the bottom in some locations. With the heavy snow fall on Sunday with the area receiving 8-12 inches of snow, travel should once again be slowed until the ice roads are plowed and established again. Anglers are also reporting that the ice thickness varies greatly, one spot could have a foot of good ice and just a little way away could have less than 6 inches of ice.
Bayshore Park- Anglers report catching a mix bag of Walleyes, whitefish and a few keeper perch. Walleyes are being caught on jigging raps and jigs tipped with minnows. Whitefish and perch coming in on jigs and slider rigs tipped with waxies and minnow heads. Reports of a lot of fish seen on electronics with a lot of lookers and not a lot of biters.
Dyckesville and Red River had heavy fishing pressure on the weekend. Anglers report good catches of whitefish and walleyes out of Dyckesville and Red River with the best bit during the week away from the crowds. Chaudoir's Dock and Sugar Creek anglers reported catching a few whitefish.
Heavy fishing pressure was seen out of Potawatomi State Park. Anglers report catching lots of smaller perch with a few fish over 8 inches coming in. Most fish were being caught in 8-13 feet of water. Anglers fishing tip-ups for northern pike report not catching anything.
VERY Heavy fishing pressure was seen both days off of Oak Ave with anglers parking over a mile away down the side roads to access Oak Ave landing. Lots of limits were reported with the majority of fish being caught in deeper water. Travel on the ice was good but with recent heavy snowfall that could change.
Marinette County
Anglers are reporting generally good ice on Lake Noquebay but take caution around the lake outlet in the southwest corner and inlet near the northwest area. Good panfish catches, and pike and walleye on tip-ups have been reported.
Fishing pressure at Red Arrow Park was consistent this week with numerous anglers out trying for perch and northern pike. Perch fishing was fair to good early in the week with slower fishing seen over the weekend. Recent slushy conditions have froze over making for slippery walking conditions and many frozen ruts from atv travel.
Low fishing pressure was seen this week on the Menominee River with occasional anglers fishing off Hattie St. and below the dam. A few brown trout and walleye were caught with many fishing hours put in to be successful.
A few anglers were seen in the bay along the shore at the mouth of the Peshtigo River fishing for northern pike. Slow fishing was observed with only a few tip up flags being reported.
Oconto County
There are good ice conditions at White Potato Lake, and anglers are reporting decent catches of panfish with walleye hitting on tip-ups with a minnow after dark.
Anglers were seen venturing away from the pier area at the Oconto Harbor and exploring new spots this week. Fishing was occurring near shore going both north and south of the Oconto River in the bay. A few small northern pike were reported caught. Whitefish anglers were getting a few fish with 1 to 3 fish per angler being common.
Many anglers were out over the weekend at Geano Beach with some offshore fishing being seen. Anglers were being cautious and checking areas of concern as some ice heaves and cracks were needed to be crossed to get out farther.
---
HUNTING & TRAPPING
There are no reports this week.
---
WILDLIFE
Oneida County
This week, the eagles that nest near the DNR service center in Woodruff were back in their territory (near the nest) calling to each other. Trumpeter swans flew in and were taking a bath in the open water west of the Art Oehmcke State Fish Hatchery.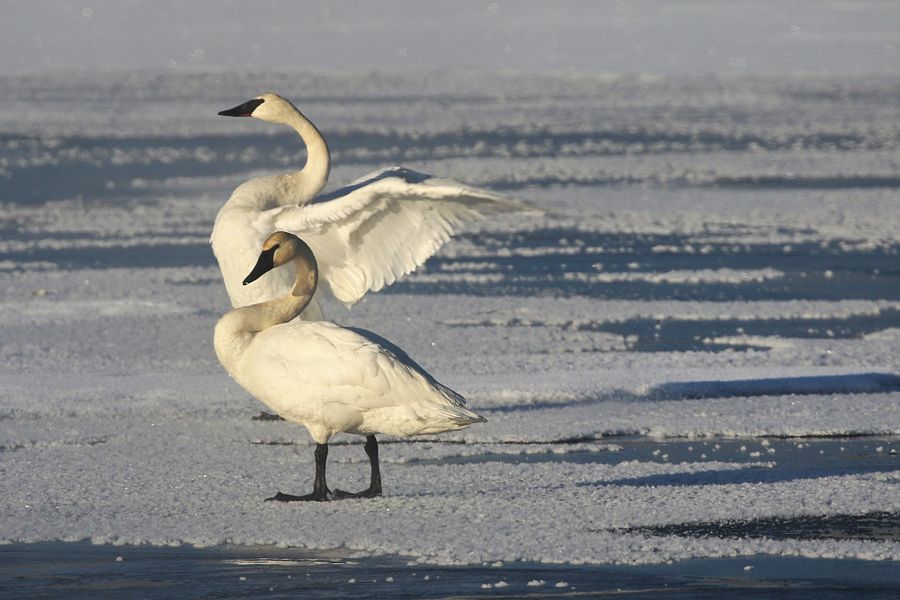 ---
SEASONAL CONDITIONS
Dodge County
The recent snow has provided a nice layer for snowshoeing with the potential for more at Horicon Marsh State Wildlife Area. There is a layer of ice under the new snow, which still makes trails slick. Snowshoes or grippers are useful. You can check out snowshoes for free at the Horicon Marsh Education and Visitor Center Monday-Friday from 9 a.m. to 4 p.m., and Saturday-Sunday from 10 a.m. to 4 p.m.
Douglas County
We are quickly approaching February's half way point, and the increasing amount of daylight is becoming more noticeable. Temperatures throughout the month have been pretty close to historical averages, although it seems like we have seen a little bit of everything this winter. The cold snap we are currently in appears to be short lived and the forecasted high for Saturday is 33 degrees! It should be a great weekend to get out of the house and enjoy some outdoor recreation at the Brule River State Forest. Grooming operations started first thing this week, as the skate lanes were heavily travelled from this last weekend's candlelight event. Staff reported that they groomed up very nicely. The classic track is still clean and in good shape from last week. Conditions are still very good to excellent. Groomers are planning to continue freshening up the trail system and track Sally's Classic trail before the weekend. Staff estimated that over 400 skiers, and snowshoers of all ages came to the trail system to enjoy the "bright" February night.
Manitowoc County
Recent snowfall blanketed Manitowoc County. Snowmobilers are patiently waiting for the trails to open. Trails are closed, but snowmobilers can check on the status of trails here. All are urged to used caution when riding, especially around water. The rivers still have open spots and thin ice. Cross-country ski trails at Point Beach State Forest are groomed and in good condition.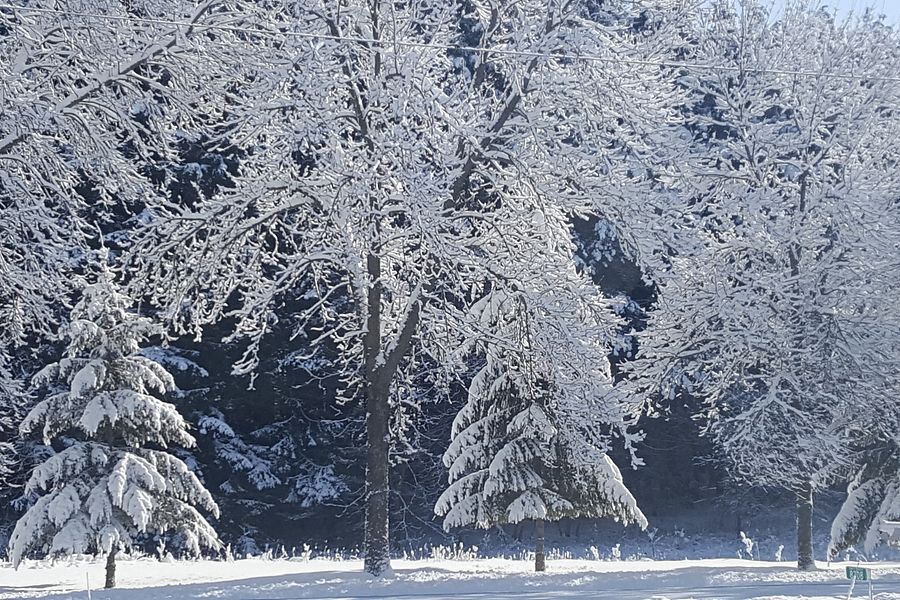 Sawyer County
Snow depths haven't changed much in the last week. Snowshoeing, cross-country skiing and snowmobile trails continue to have excellent conditions all over. Ice fishing reports have slowed as far as action goes. Slush and snow continue to make travel difficult on area lakes, but with the forecasted sub-zero temperatures coming, it should help conditions.
---
PARKS & TRAILS
Fond du Lac County
Kettle Moraine State Forest – Northern Unit has been a winter wonderland this week with the forest receiving 6-9 inches of snow last Sunday. The groomed cross-country ski trails at Zillmer and Greenbush are in great shape. With the fresh powder, the non-groomed backcountry skiing trails at New Fane should be good as well.
Volunteers were seen Monday packing down the mountain bike trails at Greenbush and New Fane, which should be great for snow/fat tire biking this weekend. Snowmobile clubs were also seen grooming the snowmobile trails on Monday. Snowshoers have been frequenting the Ice Age Trail from Butler Lake and Mauthe Lake lots.
Ice anglers have been hitting up a dozen lakes in the forest. If you haven't enjoyed had time yet to enjoy winter, this weekend will be an excellent opportunity to enjoy any one of the fantastic activities that are available in the forest.
Milwaukee County
Havenwoods State Forest received approximately 5 inches of fresh snow cover Sunday. The trails are in good condition for snowshoeing. Be aware that the trails are compacted with snow/ice cover under the fresh cover.
Sauk County
At Devils Lake State Park, about 9 inches of snow fell on Feb. 9, so trails are well covered. Trails are not groomed or tracked for cross-country skiing, nor are they maintained in any way during the winter. But hikers, walkers, snowshoers and XC skiers may choose to use any of the trails.