This is a versatile and delicious recipe that works wonderfully with any red meat wild game—even goose and crane. Chock full of flavor and super quick and easy to make, this Grilled Venison with Mustard Sauce is a go-to in our household.
It has a tangy, rich flavor and pairs very well with a Cabernet Sauvignon or Zinfandel.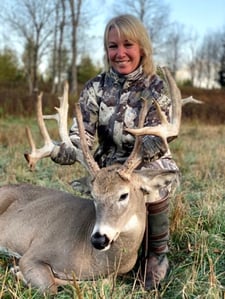 Here's how to make it!
INGREDIENTS:
3 tablespoons mayonnaise
3 tablespoons plain Greek yogurt
3 tablespoons finely chopped red onion
1 teaspoon dry mustard
1 ½ teaspoons soy sauce
3 tablespoons chopped green onion
Black pepper to taste
Salt to taste
Red pepper to taste (optional)
1 ½ pounds venison steaks (or any red meat)

DIRECTIONS:
In a small bowl, combine mayonnaise, yogurt, onion, mustard, soy sauce, green onions, pepper, red pepper and salt. Cover and set aside.
Heat grill.
Season venison with salt, pepper, and red pepper to taste.
Grill, smoke, or broil to desired doneness.
Top with mustard sauce.
Best served with a cooked side such as asparagus, brussel sprouts, or grilled zucchini.
Yeah. It really is that easy. You're welcome…