| | |
| --- | --- |
| |    The official e-mail news source of Mepps® and Mister Twister® |
| | |
Earn a FREE Comet Combo in
January's Web Special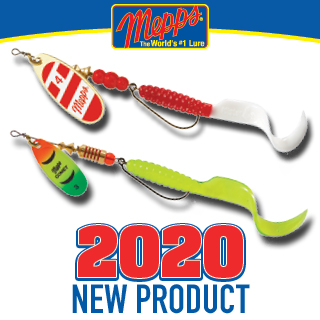 Spend $35 on Mepps.com and receive a FREE Mepps Comet Combo in your choice of size & color. Available in 15 fish catchin' colors & 4 different sizes!

Earn a FREE 10 PACK of Ringworms
in January's Web Special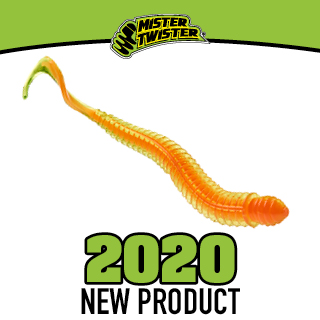 Spend $35 on MisterTwister.com and receive a FREE 10-pack of the all new Mister Twister 4″ Ringworm. Your choice of color – 15 colors to choose from!

NEW TO MEPPS in 2020: Comet Combos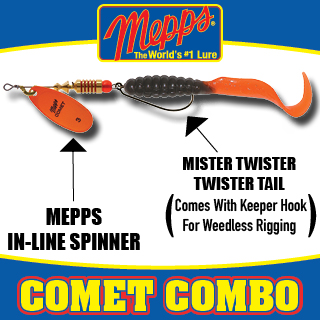 Mepps is extremely excited to announce its new product for 2020:
The Mepps Comet Combo combines the legendary Mepps spinner with the original Mister Twister Curly Tail Grub. It's perfect for hooking up with everything from trophy largemouth bass and northern pike to panfish and crappie.
The Comet Combo's blades spin close to the body, which allows the spinner to easily fish the shallow to mid-depth areas on top of those tight areas above weeds and cover. The Curly Tail Grub is rigged on a Mister Twister Keeper Hook, so it's weedless when you pitch it into the pads and walk it over logs, rocks or any other submerged cover.

Introducing the NEW
Mister Twister 4″ Ringworm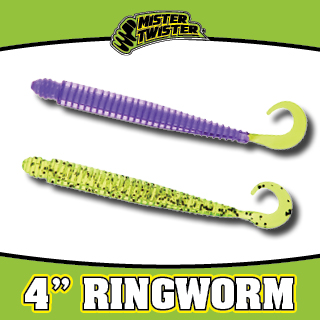 Hello 2020! We have an exciting year ahead, starting with the newest lure in the Mister Twister lineup; the Ringworm. The 4″ Ringworm is one of the most creative and versatile soft plastics ever created. Each individual ring on this worm vibrates and releases air bubbles that help grab the attention of any hungry walleye, smallmouth bass or largemouth bass. Add the iconic Curly Tail to the equation and you have yourself a fish-catching machine!
» Ringworm

New 3-Lure Kits Now Available
(Pocket Pacs)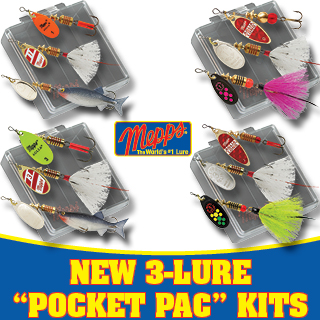 4 new Pocket Pac Kits (3-lure kits) have been introduced to our 2020 lineup. We've updated these kits to better support our bass and trout anglers. Each kit contains 3 lures that have been handpicked by the Mepps staff, these in-line spinners use some of our all-time favorite Mepps lures and they come in a reusable Pocket Pac to keep your lures in good working condition for years to come. KA-TA & KA-TB are designed for trout while KA-BA & KA-BB are made to hook up with either laregemouth or smallmouth bass.

New Color added to 2020
Twister Tail Lineup – 05N Bluegill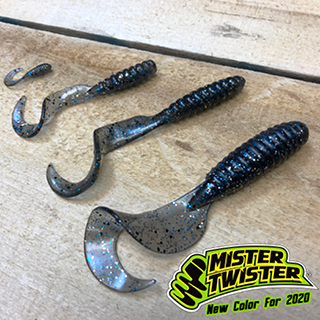 If you didn't already know, now you do! We've expanded our Bluegill color lineup for 2020. Previously, they were only available in the 5″ Fat Curly Tail. Now 05N-Bluegill is available in all the Original Twister Tail sizes: 1″, 2″, 3″, & 4″.
» 1″ Lil' Bit
» 2″ Teenie
» 3″ Meeny
» 4″ Twister Tail
» 5″ FAT Curly Tail

New 2020 Mepps Master Catalog!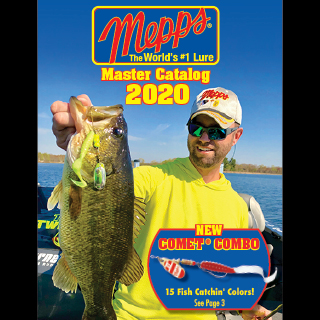 View the 2020 Mepps Master Catalog here or request one to be sent to you!

New 2020 Mister Twister Catalog!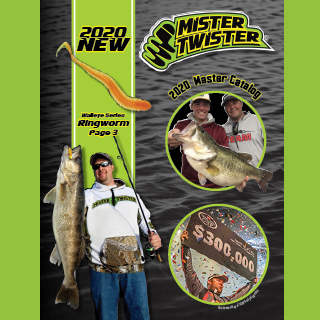 View the 2020 Mister Twister Master Catalog here or request one to be sent to you!

Find us on your favorite social network!

Sheldons', Inc. 626 Center St., Antigo, WI 54409-2496