20′ BIG DENALI™ 1.5-MAN Ladder Stand by HAWK®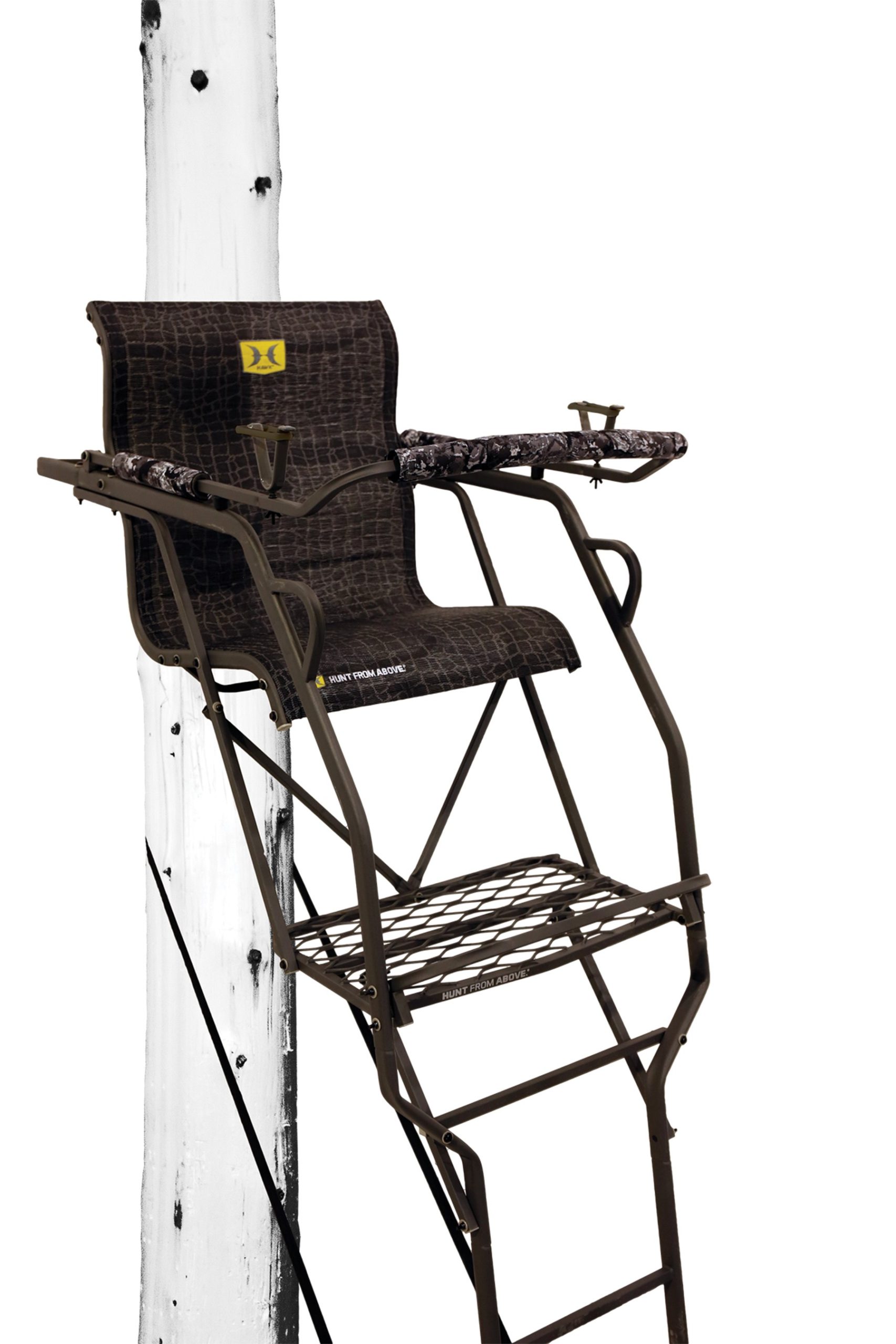 Staying alert on the stand is key to effective hunting, and the 20′ Big Denali™ ladder stand from HAWK® delivers the comfort and space needed to maintain focus during those long hours in the field.
Built with oval tubing to maximize strength and offer a more ergonomic grip for climbing, the 20′ Big Denali™ utilizes bolted joints with Teflon® washers and a one-piece platform design for silent operation. The platform and seat dimensions offer "1.5-man" width, providing ample room not only for sitting comfort, but also for greater maneuverability for rear-angle shooting and observation while wearing heavy winter clothing.
Further promoting all-day comfort is the XL MeshComfort™ zero-pressure lounger seat. Featuring a contoured seatback and a curved knee bolster to eliminate pressure points and promote circulation, the lounger seat combines with the Kick-Out Comfort Foot Rest to ensure the hunter is always ready for the big moment.
Additional features of the 20′ Big Denali™ are left- and right-side loop handles integrated into the frame to provide a safe and secure grip when stepping onto or off the platform. The flip-up shooting rail includes padded arm rests and padding along the front of the rail to reduce noise and offer protection when supporting a gun. Bolt-on gun rest stirrups provide hands-free support, so the rifle is always at-the-ready.
As with all HAWK® stands, the 20′ Big Denali™ 1.5-man ladders stand is tested to TMA standards and includes a full-body safety harness.
Model: HWK-HL2061
MSRP: $249.99
HAWK® 20' Big Denali™ 1.5-Man Ladder Stand Features:
XL MESHCOMFORT™ LOUNGER SEAT zero-pressure, ultimate support, durable and weather-resistant
OVAL TUBING adds strength and an ergonomic grip to grab while climbing
NOISE-FREE bolted ladder sections, premium Teflon® washers and a one-piece design platform
STAND HEIGHT – 20′
PLATFORM SIZE – 26″ W x 14″ D
SEAT SIZE – 26″ W x 24″ D x 26″ H
STAND WEIGHT – 80-LB
WEIGHT RATING – 300-LB
To learn more about the HAWK® Safety-Line and other HAWK® products,
visit www.hawkhunting.com.
About HAWK® Hunting
Based in Irving, TX – HAWK® Hunting is a hunter driven and committed to ruggedly-designed outdoor gear. Never satisfied and refusing to settle, our passion is bringing superior design, quality and performance to products that all hunters can enjoy. Like refining a strategy in the woods, it's all about evolving. HUNT STRONGER. SAFER. SMARTER. HUNT FROM ABOVE®. For more information about HAWK®, please visit www.hawkhunting.com.
HAWK® Hunting is a subsidiary brand under GSM Outdoors. For information regarding GSM and their products please visit www.gsmoutdoors.com. To become a dealer or have a sales representative contact you, please call (877) 269-8490.  For more information on GSM brands visit http://www.gsmoutdoors.com.
About GSM Outdoors
For nearly 20 years, the GSM Outdoors family has been strongly dedicated to bringing the greatest innovative consumer products to market through some of the most well-respected brands in the outdoor industry. They have grown to cover a wide variety of outdoor products to meet all your hunting, shooting and outdoor needs. Their extensive brand portfolio includes Stealth Cam scouting cameras, Walker's hearing protection & enhancement, Muddy blinds & tree stands, Birchwood-Casey and TekMat gun care products and targets, Boss Buck & American Hunter feeders, New Archery Products (NAP) broadheads & ground blinds, Western Rivers game calls, Hawk & Big Game tree stands, Down & Out Blinds by Hawk, HME hunting accessories (Coyote Light & Scent Slammer), SME shooting accessories (Bullseye), Crossfire Holsters, Cyclops light accessories, Viking Solutions and Hunters Specialties. Get the most out of your outdoor experience with GSM Outdoors!