10 Great New Crossbows for 2021
Fast and accurate: Crossbows from this year's ATA Show.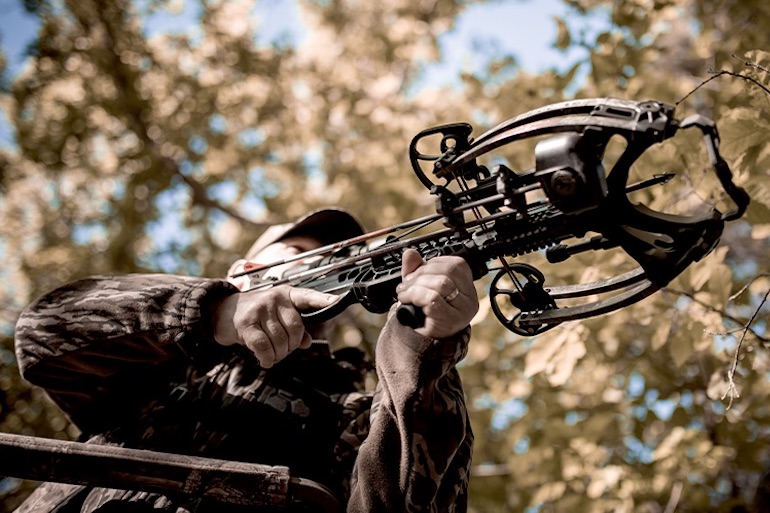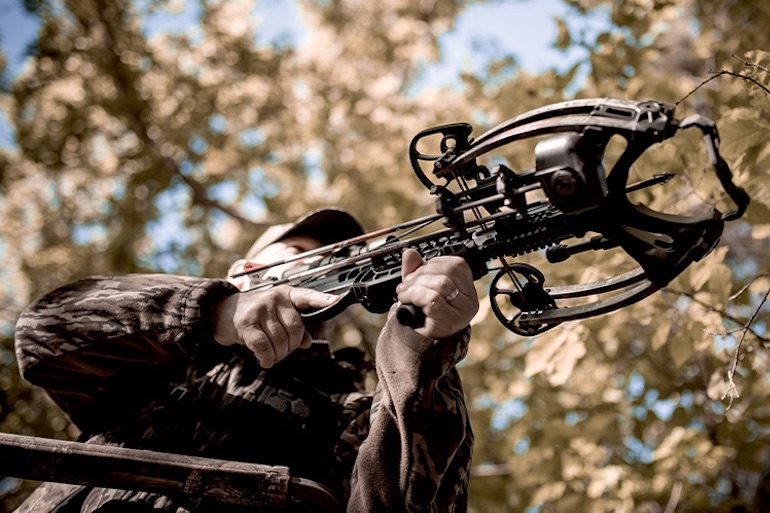 Here's a look at new crossbows for 2021 from the annual ATA Show, held virtually this year due to the COVID-19 pandemic.
TenPoint Havoc RS440 XERO (with Garmin X1i Rangefinder)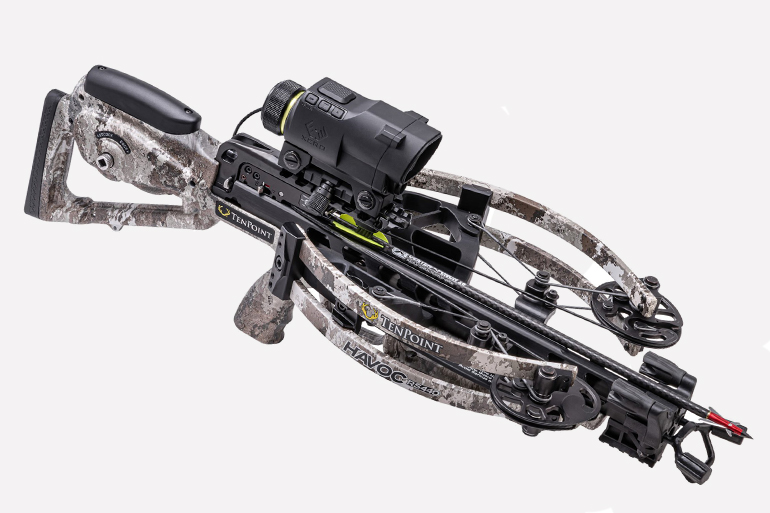 The new Havoc RS440 XERO combines the industry's fastest crossbow-per-inch with the most advanced aiming system on the market. Delivering supercharged speeds up to 440 FPS and the revolutionary ACUslide cocking and de-cocking system, the Havoc RS440 XERO is equipped with the new Garmin Xero X1i Rangefinding. The new Garmin Xero X1i crossbow scope with built-in laser rangefinder is the first of its kind. The auto-ranging digital scope with 3.5X magnification automatically measures distance to a target.
A single button press lets you range game up to 250 yards away and reflective targets up to 500 yards away. Precise illuminated aim points automatically adjust for both distance and brightness conditions to allow you to see your target, unobstructed by reticle patterns. The crossbow measures only 26.5 inches (w/o stirrup) long, 7.5 inches wide, and shoots a supercharged 440 fps with the included 400-grain arrow EVO-X CenterPunch 16 carbon arrow. Unlike competitors' short crossbows using 20-inch arrows that hang over the front of the bow by 2 to 3 inches, the CenterPunch16 16-inch arrow is a perfect length for the 26.5-inch long Havoc RS440 Xero. Get more info here
MSRP: $3,599.99 | tenpointcrossbows.com
Ravin R500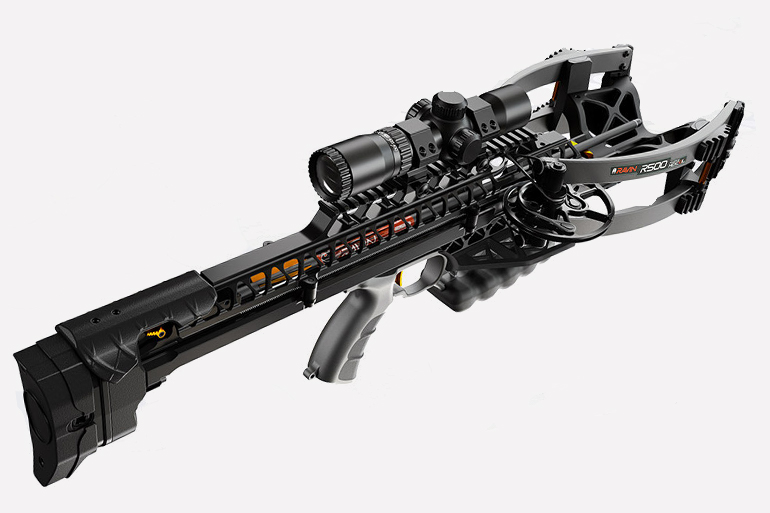 For hunters and shooters that appreciate Ravin's legendary technology, the R500 (available in the spring) takes crossbow innovation to the next level. The new proprietary HexCoil Cam System rotates the cams 360 degrees and has reformed traditional crossbows into the fastest, most accurate and compact designs ever seen. Completely silent, this crossbow uses the new R500 Draw Handle and cocks back to a slim 3.6 inches when fully cocked, firing arrows downrange at 500 feet per second! The R500 utilizes the new VersaDrive Cocking System that has an internal screw drive that moves the Trac Trigger Firing System (TTFS) back and forth. The internal clutch within the VersaDrive System eliminates over-cocking and allows cocking and uncocking to be stopped or resumed at any time during the process. The R500 can be upgraded to the R500E by purchase of the new Electric Drive Kit, sold separately. Get more info here
MSRP: $3,049.99 | ravincrossbows.com
Excalibur TwinStrike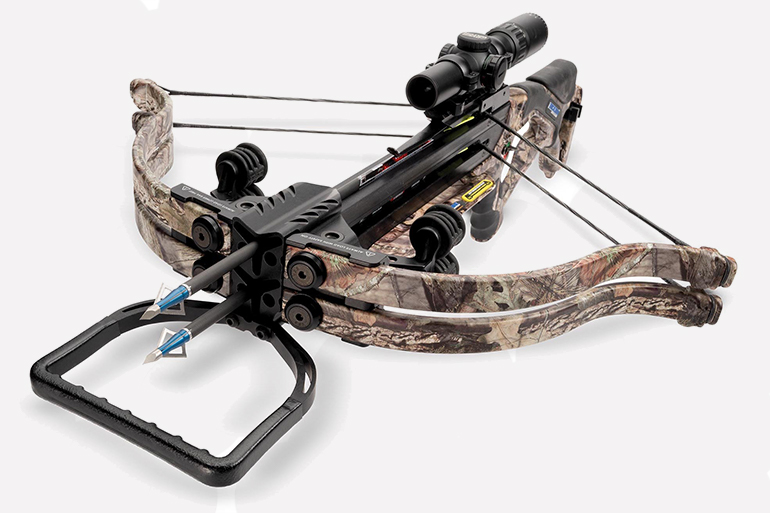 Excalibur introduces the new TwinStrike with DualFire technology, the first crossbow to feature the ability to fire two arrows in milliseconds. The new TwinStrike provides two arrows locked and loaded for double the confidence, and a second shot without the need to reload. This groundbreaking crossbow technology consists of three key components: two-trigger platform for quick follow-up shots, CeaseFire technology to ensure the crossbow won't fire unless arrow is loaded, over/under rail system that's engineered to provide double arrow accuracy at 50 yards, with 1.5" groups below and beyond 50 yards. Shot speed up to 360 feet-per-second. Get more info here
Photo Gallery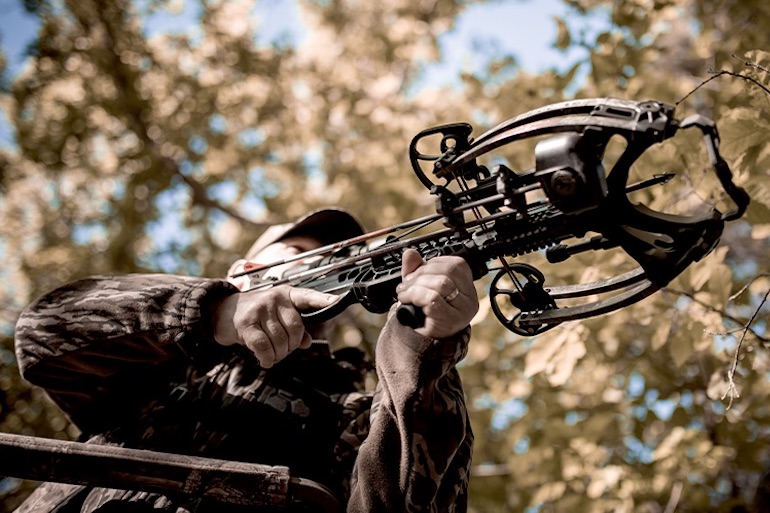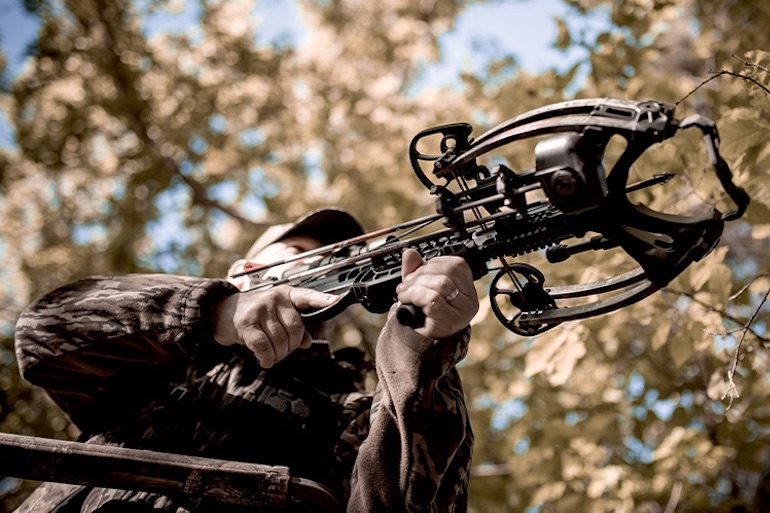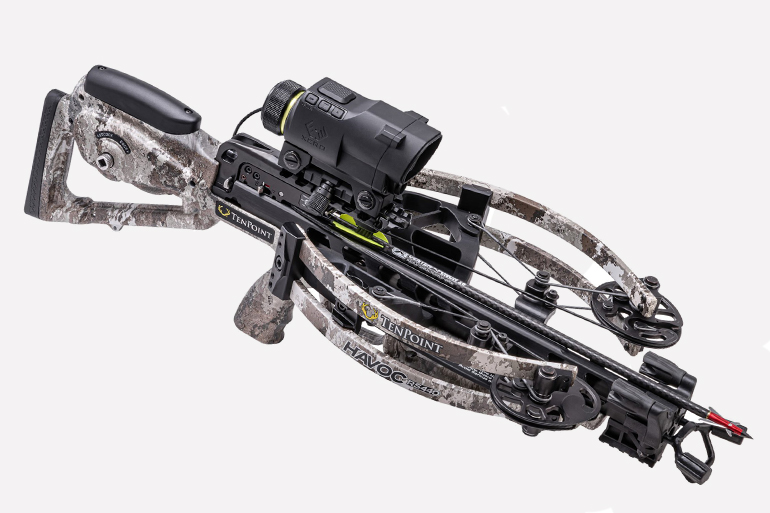 MSRP: $2,222 | excaliburcrossbow.com
Barnett HyperTac 420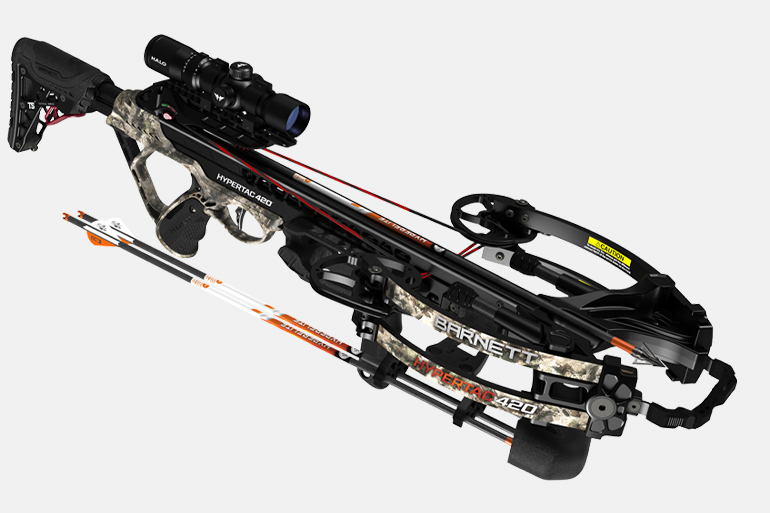 Barnett's new HyperTac 420 measures only 9.2 inches axle to axle when cocked, yet delivers bolt speeds of 420 fps, with 225-pound draw weight and 15 ½-inch power stroke. A newly designed and ultra-compact riser assembly paired with the tactical-style adjustable butt stock renders this bow maneuverable in tight quarters.The bow amplifies Barnett's Hyper series crossbow lineup and shoots the small-diameter, extreme penetrating HyperFlite .204 diameter arrows. Mossy Oak Elements Terra Gila conceals the bow, while the accompanied Halo 1.5 – 5 x 32 mm premium red/green illuminated, speed-compensating scope lets you spot your target in dense brush and low light with precision reticles from 20-70 yards. The included TriggerTech trigger increases accuracy and precision with a crisp, three-pound zero creep trigger. Get more info here
MSRP: $899.99 | barnettcrossbows.com
Rocky Mountain RM400 Black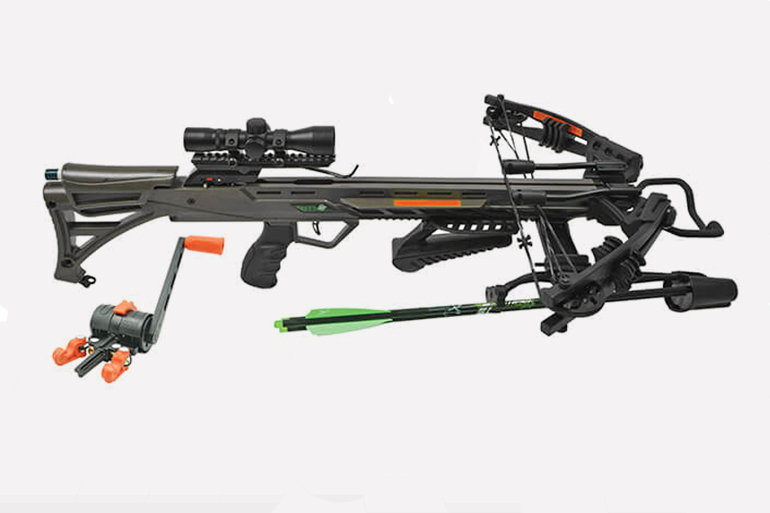 Looking for an affordable way to get into the crossbow hunting game while still purchasing a high quality hunting product? Then look no further than the new Rocky Mountain RM400 Black design from Feradyne, which propels 380-grain Carbon Express Pile Driver bolts—included in the package—at 400 fps with 135 foot-pounds of kinetic energy at impact. And all of that big performance at an easy to stomach price tag of only $299.99, leaving you plenty of extra money for the venison processing and taxidermy bill! Measuring 18 1/2-inches wide—14 1/2-inches wide when cocked—by 35-inches in length, this crossbow is built on a one-piece black stock that has a 195-pound draw weight limb system as its core. Coming with a Dry Fire safety system, RM Quiet Crank, a bolt quiver, three Carbon Express bolts, dual string suppressors, limb dampeners, and a 4×32 scope, this crossbow is ready-to-hunt and at a friendly price tag that just about any hunter can afford. Get more info here
MSRP $299.99 | feradyne.com/rocky-mountain
CenterPoint Pulse 425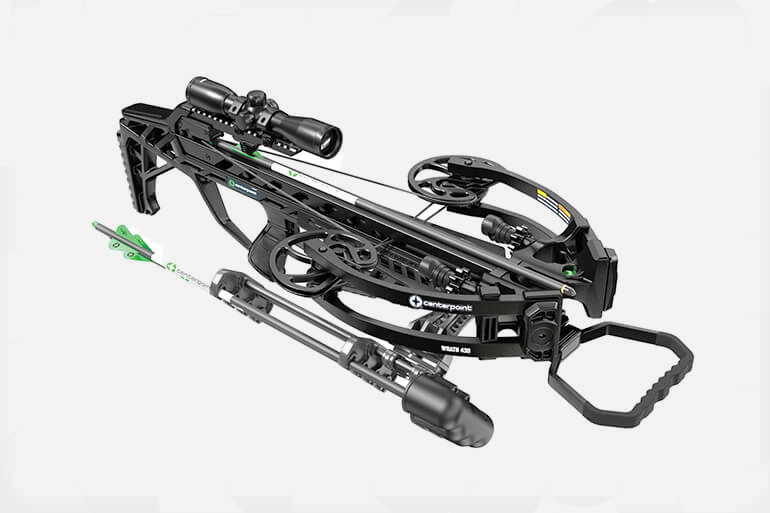 Speed and a quiet shot are hallmarks of the new CenterPoint Pulse 425. Checking in at only 12-inches in width from axle-to-axle when cocked, this crossbow is a quiet assassin that can be easily maneuvered in a treestand, ladder stand, or ground blind situation when a big buck steps from cover. Featuring a CNC-machined aluminum rail and cam system, this crossbow comes with an AR-style buttstock and a folding stirrup. With a Whisper Silencer System that uses string stops, limb dampeners, and string silencers to keep noise and vibration at bay, this design is quiet along with being safe, thanks to an anti-dry fire and auto-safety trigger mechanism. Add in the 4×32 illuminated scope, three 20-inch bolts, a rope cocking device, and a side-mount quiver and hunters are only a few easy steps away from hitting the woods when they purchase this new crossbow from CenterPoint Archery. Get more info here
MSRP: $499 | centerpointarchery.com
PSE Coalition Frontier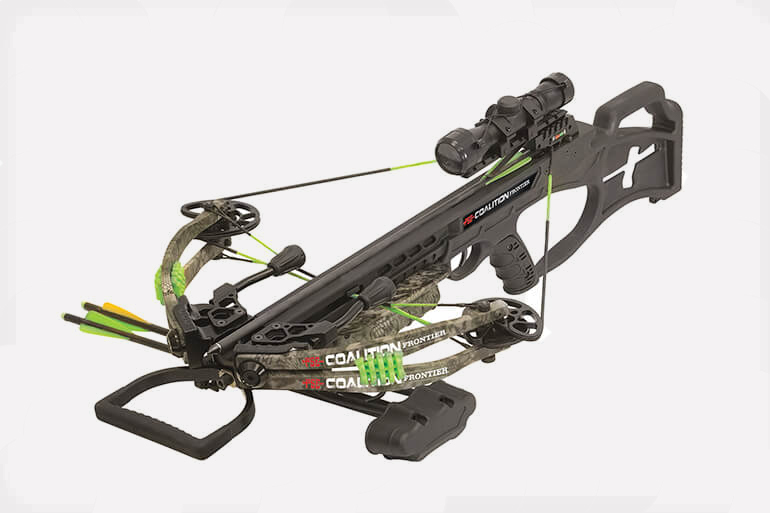 The features are numerous on the newest addition to the PSE crossbow lineup, but the number of George Washington's you'll have to spend to buy the new Coalition Frontier aren't. Starting with a 13 1/4-inch power stroke, the Coalition Frontier can launch bolts at speeds of up to 380 fps as the 190-pound draw weight delivers a good kinetic energy punch downrange. Weighing 6.9-pounds, measuring 33 5/8-inches in length, and being only 17 7/8-inches from axle-to-axle at rest, this crossbow comes in Kryptek's Altitude camo. With a 1.5-5×32 variable zoom illuminated scope, three 22-inch carbon bolts, a five-bolt quiver, limb dampers, string silencers, dual string stops, and a cocking rope, this is a high quality crossbow at a very affordable price. But then again, what else would you expect from Pete Shepley and the folks at PSE? Get more info here
MSRP: $299.99 | psearchery.com
Wicked Ridge NXT 400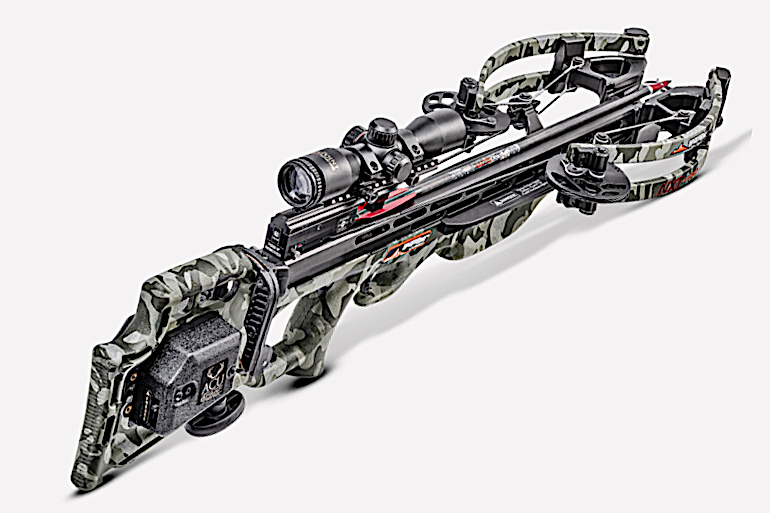 Wicked Ridge's narrowest, most accurate crossbow ever. Only 6 inches wide, the NXT 400 is designed by hunting crossbow leader TenPoint and unleashes speeds at 400 feet-per-second and match-grade downrange accuracy. The bow's XR6-Cams and Vector-Quad cable technology uses four cables instead of two to power 200-pound limbs. Pre-sighted at 20-yards. Easy 1-bolt assembly. Crossbow Hunting Package Includes: TenPoint's 3x Pro-View Scope, ACUdraw cocking device, 3-arrow instant detach quiver, three Pro Elite 400 carbon arrows with practice points. It measures 33 inches long without the stirrup and weighs just more than 7 pounds. Get more info here
MSRP: $1,099 | wickedridgecrossbows.com
Bear Archery Impact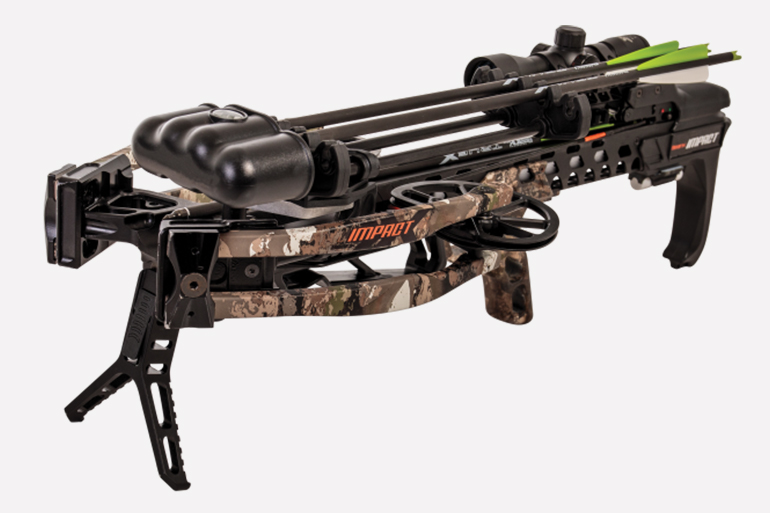 Find your target and leave your mark with the all-new Impact from BearX. This crossbow features an incredibly narrow frame at just 8-1/8" wide when cocked and 12-1/16" uncocked. The Impact fires arrows at blazing speeds at 420 feet per second with a draw weight of 180 lbs. The all-new detachable silent cocking crank can be used to de-cock the crossbow and features an anti-reverse mechanism to stop the crank when the handle is let go. In addition to the detachable cocking crank, this ready-to-hunt crossbow package includes 3 Bear X TrueX arrows, illuminated scope, 4-arrow quiver, sling, and rail lube / string wax. The Impact is available in TrueTimber Strata and Veil Stoke camo. Get more info here
MSRP: $1,049.99 | beararchery.com
Axe Crossbows AX440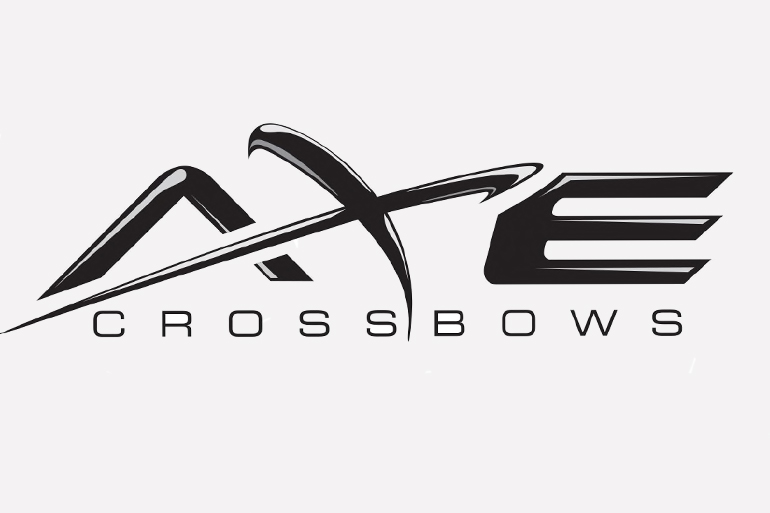 At a maneuverable, stable and easily shouldered 30.5 inches long and less than 12 inches axle-to-axle when cocked, the new AX440 delivers crossbow bolts at 440 fps. The weight of the AX440 is centered over the shooter's hand by way of a balanced shoot-through stock and riser design and reverse limb system. This configuration empowers the most efficient part of the split limb system from just 15 inches of power stroke to launch bolts at 440 feet-per-second. When combined, the proprietary cam system's features center the string to move along the same plane throughout the entire power stroke.  Unlike the one-piece aluminum rail concepts of conventional crossbow designs that rob speed, efficiency and bolt life, the stock of the AX440 also eliminates the rail and utilizes dual carbon guide rods along the entire length of the stock. When combined with a shoot-through riser and a tunable roller rest these features create a free-floating arrow system that minimizes contact, friction and torque along the arrow's entire path. The result; greater efficiency, accuracy and speed output.  The AX440 also puts to work the proven small diameter 19.5-inch (.166 I.D.) bolt system to produce extreme accuracy, durability, penetration and safety. The interaction between the bolt's premium aluminum capture nock system and the bow's string create an audible sound to note full connection and preparation to interface with the trigger system for unprecedented safety. Get more info here
$2,099.99 | feradyne.com/axe-crossbows